Revised 5/2020
Lab Attire and Protective Equipment
Lab workers must, at a minimum, wear lab coats and safety glasses while in a lab where chemicals are handled.  Lab coats and safety glasses are not required when sitting at a desk in the lab.
Additional protective equipment may be required depending on hazards in the lab. The Principal Investigator or their designee will review the need for additional protective equipment.
Shorts and sandals may not be worn into the lab even under a lab coat. 
Gloves
Nitrile gloves are required when working with chemicals. 
Disposable nitrile gloves (minimum thickness of 4 mil) provide adequate protection against accidental hand contact with small quantities of most laboratory chemicals. These gloves provide a physical barrier between the worker's hand and the reagent. Lab workers who contaminate their gloves should immediately remove them, wash their hands and don new gloves. Gloves should not be worn outside of the lab. Latex gloves are not recommended for laboratory use.  More details about the proper use and limitations of nitrile glove use can be found at Fact Sheet:  Disposable Nitrile Glove Use in Chemical Labs.
Lab workers should contact EHRS for advice on chemical resistant glove selection when direct or prolonged contact with hazardous chemicals is anticipated. The selection of the proper glove requires knowledge of the health and physical hazards of the chemical that is used; familiarity with the glove manufacturer's test data (permeation rate and breakthrough time) and the length of the hand exposure. Lab workers should not select chemical resistant gloves based on data from generic selection charts.
Lab Coats
Lab coats should not be worn outside of the lab. The employer (principal investigator) must provide lab coats and lab coat laundering services at no cost to all employees who work in the lab.  Any Penn-approved vendor may be used for lab coat cleaning.
Lab coats for the majority of chemical handling procedures must be 100% cotton.  Lab coats made of synthetic fibers are not permitted.  Researchers who work with liquid pyrophorics, open flame, or high volumes of flammable liquids must wear fire-resistant lab coats. Contact EHRS for more information about fire-resistant lab coats.
Safety Eyewear
EHRS has partnered with Fisher Safety to produce the UVEX Genesis (Fisher number 19-130-2060) and the UVEX Astro OTG 3001 (19-150-500) safety glasses with the Penn logo.  The UVEX Genesis provides excellent clarity and improved fit, style and comfort.  The Astro OTG 3001 can be worn over prescription eyeglasses.  They are available through the Penn Marketplace, from Fisher Safety.  Fisher Safety offers replacement lenses available in a broad selection of tints and coatings that prevent scratching and fogging.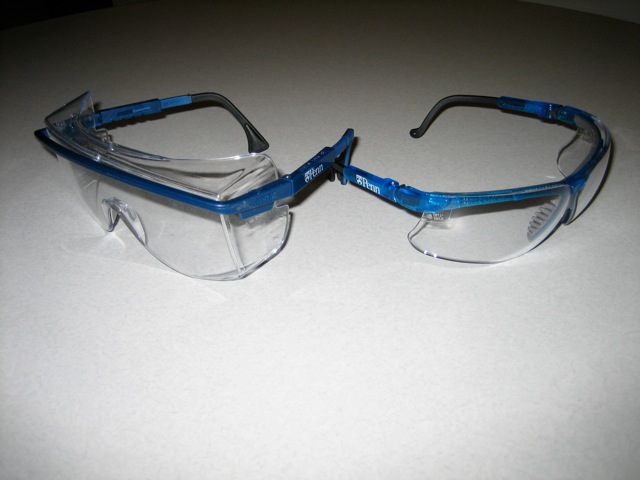 Prescription Safety Eyewear
Prescription safety glasses are available at Penn Optical, located on the ground floor level of the Scheie Eye Institute at Penn Presbyterian Medical Center at 51 N. 39th Street.
Safety glasses are an essential component for protection when there is a risk of eye hazards.  Protective eyewear is required in all university laboratories.  If you wear prescription lenses you may find prescription safety glasses beneficial.
Safety glasses retail for approximately $250.00.  Employees can use their Davis or VBA vision plan or receive a 25% discount if they do not have coverage.
Contact Penn Optical to make an appointment - 215-662-8029.