Last Revised: September 23, 2022
Revised 9/2022 (G. Allen)
Lab Attire and Protective Equipment
Lab workers must, at a minimum, wear lab coats and safety glasses while in a lab where chemicals are handled.  Lab coats and safety glasses are not required when sitting at a desk in the lab.
Additional protective equipment may be required depending on hazards in the lab. The Principal Investigator or their designee will review the need for additional protective equipment.
Shorts and sandals may not be worn into the lab even under a lab coat. 
Gloves
Nitrile gloves are required when working with chemicals. 
Disposable nitrile gloves (minimum thickness of 4 mil) provide adequate protection against accidental hand contact with small quantities of most laboratory chemicals. These gloves provide a physical barrier between the worker's hand and the reagent. Lab workers who contaminate their gloves should immediately remove them, wash their hands and don new gloves. Gloves should not be worn outside of the lab. Latex gloves are not recommended for laboratory use.  More details about the proper use and limitations of nitrile glove use can be found at Fact Sheet:  Disposable Nitrile Gloves in Chemical Labs.
Lab workers should contact EHRS for advice on chemical resistant glove selection when direct or prolonged contact with hazardous chemicals is anticipated. The selection of the proper glove requires knowledge of the health and physical hazards of the chemical that is used; familiarity with the glove manufacturer's test data (permeation rate and breakthrough time) and the length of the hand exposure. Lab workers should not select chemical resistant gloves based on data from generic selection charts.
Lab Coats
Lab coats should not be worn outside of the lab. The employer (principal investigator) must provide lab coats and lab coat laundering services at no cost to all employees who work in the lab.  Any Penn-approved vendor may be used for lab coat cleaning.
Lab coats for the majority of chemical handling procedures must be 100% cotton.  Lab coats made of synthetic fibers are not permitted.  Researchers who work with liquid pyrophorics, open flame, or high volumes of flammable liquids must wear fire-resistant lab coats. Contact EHRS for more information about fire-resistant lab coats.
Safety Eyewear
EHRS has partnered with EMSCO/Fisher Scientific to produce the UVEX Genesis (Fisher number 19-130-2060) and the UVEX Astro OTG 3001 (19-150-500) safety glasses with the Penn logo. The UVEX Genesis provides excellent clarity and improved fit, style and comfort. The Astro OTG 3001 can be worn over prescription eyeglasses. They are available through the Ben Buys Penn Marketplace from EMSCO/Fisher Scientific. EMSCO Fisher Scientific offers replacement lenses available in a broad selection of tints and coatings that prevent scratching and fogging.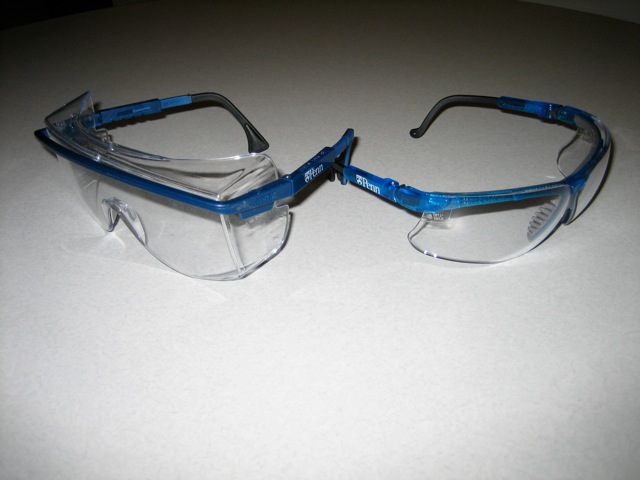 Prescription Safety Eyewear
Safety glasses are an essential component for protection when there is a risk of eye hazards. Protective eyewear is required in all university laboratories.  If you wear prescription lenses you may find prescription safety glasses beneficial.
Prescription safety glasses can be purchased either online or at optical shops.  If you have a vision plan you must verify that it is accepted or if you have the option of submitting for reimbursement.
Zenni Optical is a low-cost optical website that sells prescription safety glasses and goggles. You provide them with your prescription, and you can virtually "try on" frames. They do not accept vision insurance. 
Walmart Optical is another option and they accept many vision plans. 
Individuals looking to order prescription safety glasses can do so through the local vendor Mancine Optical.  Fill out this order form and send it directly to Todd Mancine.
If your department has 8 or more individuals who wish to order prescription safety glasses, a Mancine Optical optician will come out to campus for a fitting.  Contact Todd Mancine directly to set up an appointment.  Billing for department fittings is flexible and can accommodate purchase orders, credit cards, a monthly statement, etc.
When purchasing safety eyewear remember:
Safety glasses should not have large gaps where a chemical splash or debris can enter the eye.  If you are working with the potential of a large splash purchase safety goggles.

Safety glasses must be stamped with the ANSI safety rating Z87.
Please contact EHRS with any questions, 215-898-4453.