Last Revised: August 27, 2018
Cabinet Interior
Acid cabinets shall have an interior of molded polyethylene or alternate material that is impervious to acids.  The cabinet shall be approved by the manufacturer for the storage of strong acids (concentrated nitric, sulfuric or perchloric acids).  The interior lining shall be composed of one piece. Shelves and shelf supports shall also be constructed of materials impervious to acids or covered with a non-corrosive material.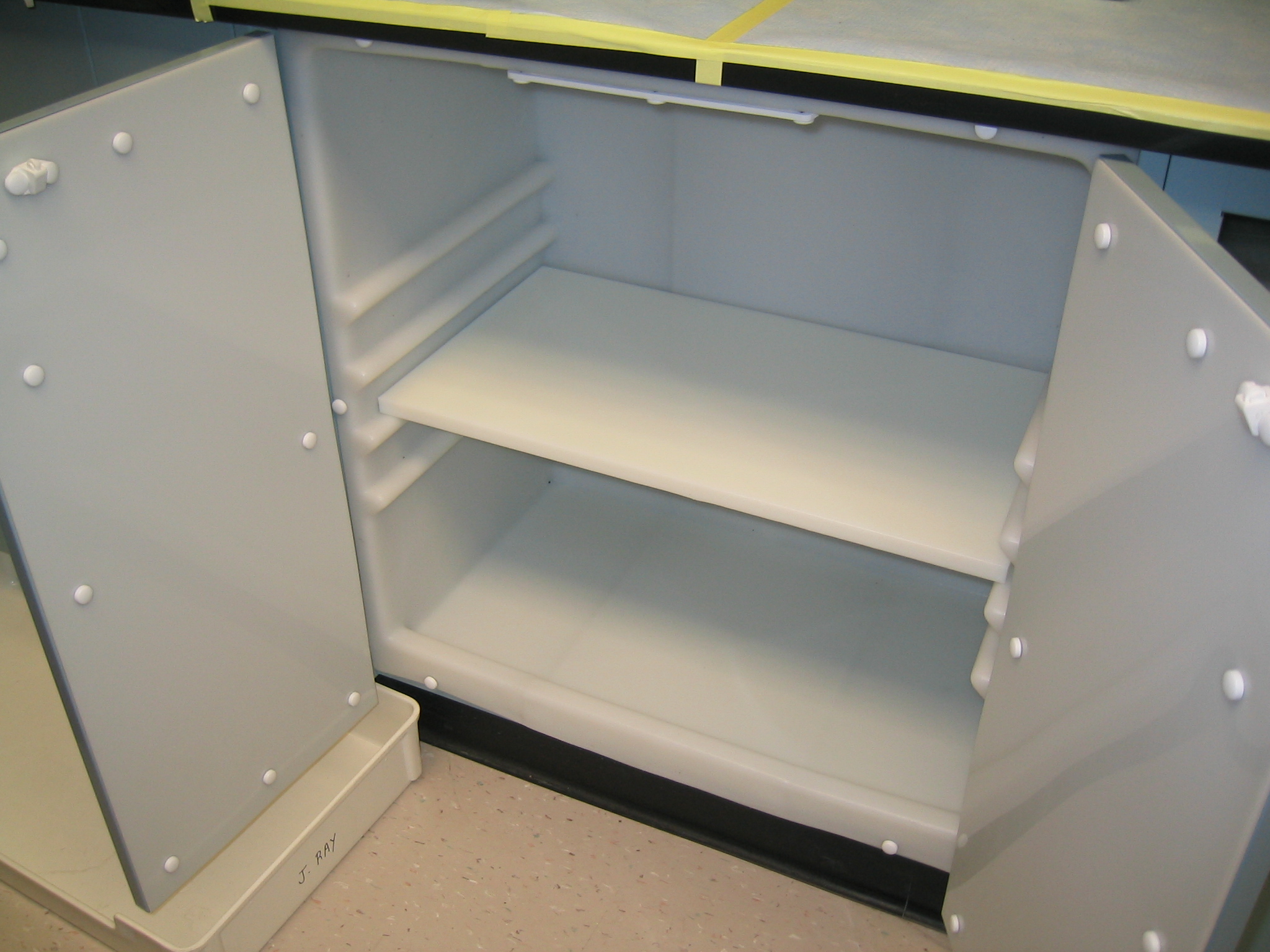 The cabinet shall have a raised lip in the front to contain spills.
No metal fasteners or metal shelf supports are permitted.
Cabinet style and size

Cabinets shall be no larger than 45 gallon capacity.
Doors shall be swing open.
Doors shall not be self closing.
Number of cabinets and storage capacity

The number and size of cabinets required is dictated by the size of the laboratory and the type of research conducted.  A thorough needs assessment should be conducted by the design professional to ascertain the proper number, size and location of cabinets.
The following guidelines are provided for design professionals when designing generic research labs:
Biomedical (generic)
Total aggregate storage per lab is equal to 1 gallon per bench (double sided bench)
Minimum capacity of 8 gallons per lab room or fume hood alcove.
Physical science labs (generic Chemistry or Materials Science)
Total aggregate storage per lab is equal to 3 gallons per bench (double sided bench)
Minimum capacity of 15 gallons per lab suite or hood alcove.
Labeling
Cabinet shall be labeled "ACID" or "CORROSIVE" .
Venting
Cabinets located under fume hoods shall be vented into the plenum of the hood using manufacturer supplied vent kits. Air should be removed from the bottom vent opening of the cabinet.
Free standing cabinets in biomedical labs shall not be vented. Bungs shall be used to seal vent openings.
Free standing cabinets in physical science labs (Chemistry, Nanotech, Materials Science and research involving organic synthesis) may be vented into the fume hood exhaust system or a dedicated system for hazardous materials exhaust.  Replacement air for vented shall be ducted into the cabinet in such a way as not to compromise the specified performance of the cabinet. A detail illustrating how the cabinet will be vented shall be submitted to the Offices of Environmental Health and Radiation Safety and University Engineer for approval.