Last Revised: December 21, 2021
Revision 12/2021
In the past few years, several incidents and near misses involving hot plates have been reported at Penn and at other research institutions. The cause of each incident was either electronic malfunction or user error.  The following alert describes some of these events at Penn and provides guidance on how to avoid these incidents in your lab.
January 2021:  A post-doc used a combination heat-stir plate to stir a western blot transfer in a cold room overnight.  A few hours later, the reservoir melted and caught fire because of an electronic failure or because the researcher did not notice that the heating function was turned on.    



January 2016: A graduate student in the Chemistry Department reported that her Corning PC-420D hot plate unexpectedly heated to high temperature during an attended operation. The temperature was being monitored by both a thermocouple probe connected to the hot plate and an analog thermometer.  The temperature of the hot plate spontaneously spiked beyond the target temperature of 80 C, causing a small fire, which was quickly extinguished. 
March 2015:  A graduate student in the Chemistry Department reported that her Corning PC-420D hot plate unexpectedly heated to high temperature while the heat dial was in the 'off' position. 
July 2014: A Chemistry graduate student entered the lab in the morning and found that his fume hood was on fire.  The fire originated from a hot plate that was left plugged in overnight but was reportedly not turned on or being used for any experiment at the time. The suspected cause was a malfunction of the Corning model PC-320 hot plate, which may have spontaneously heated to maximum temperature.

May 12, 2012:  A fire occurred in Chemistry 1958 when a hot plate was left on and ignited combustible materials in the laboratory.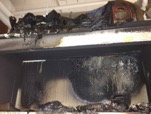 March 31, 2011:  A fire in Clinical Research Building occurred when the heating function of the hot plate was turned on instead of the stirrer, causing a fire in a fume hood.

Electronic malfunctions
OLDER EQUIPMENT
Hot plates manufactured prior to 1984 do not have temperature feedback controls and can spontaneously and rapidly heat beyond the set temperature while in the 'ON' position. 
Models that are known to exhibit this problem include the Corning models PC-35 & PC-351 and Thermolyne SP46925.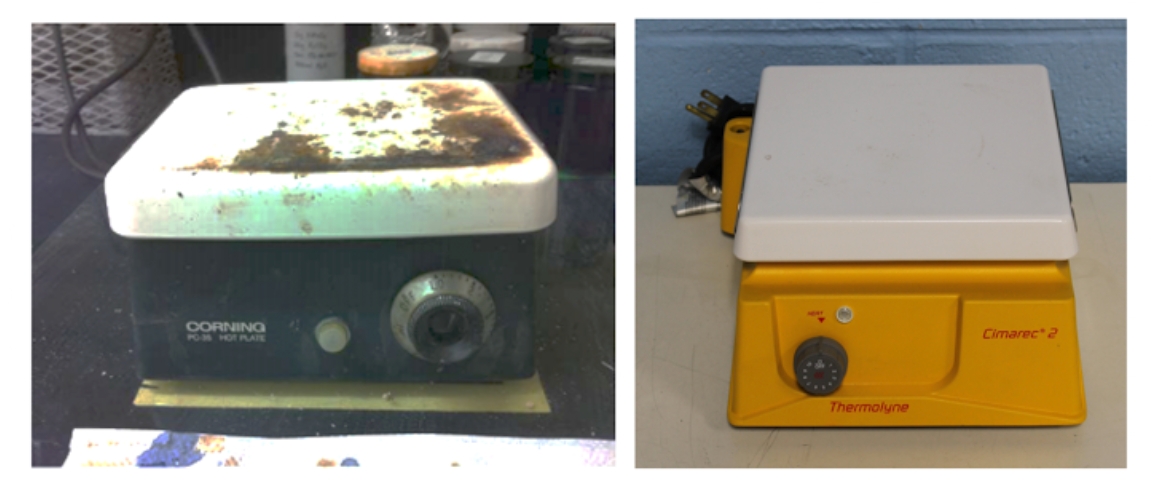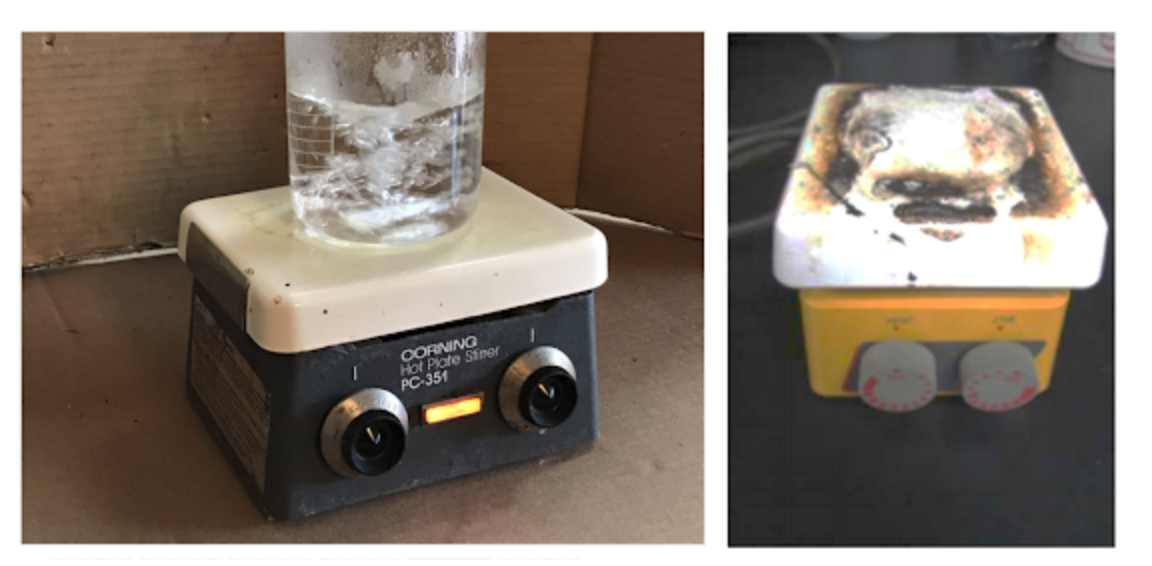 NEWER EQUIPMENT 
Some hot plates have a red light that indicates the hot plate is still on or is still hot.  Turning the hot plate power to "off" does not disconnect the heater from the electrical source.  Processors are running as long as the unit is plugged in.  In the event of a firmware glitch, the unit can still begin to heat when the switch and light are off.  
Exposure to elements such as cold, moisture, corrosive gas and vapor are known to increase the chance of processor failures, although this problem has also been observed in nearly-new equipment.
WHAT YOU CAN DO:
See Heating Reactions SOP/Fact Sheet in the Chemical Hygiene Plan for more information about safe heating of chemical reactions.
EQUIPMENT MAINTENANCE and REPAIR:
Replace hot plates manufactured prior to 1984.  Cut the cord off of the equipment before discarding it.

Keep hot plates in good condition. Exposure to conditions such as cold, moisture, chemical spills, and corrosive vapor and gas are known to increase the likelihood of electronics failures.  Clean all spills immediately and thoroughly. Do not use hot plates in cold rooms and do not store equipment in cabinets where corrosive chemicals are stored.

Replace damaged, malfunctioning, and unreliable equipment. Repair or replace hotplates with signs of damage such as corrosion or damaged electrical cords.  Any equipment (hot plate or temperature probe) that exhibits unexpected temperature fluctuations or unreliable temperature control must be taken out of service immediately for repair or replacement.  

Purchase hot plates with additional safety controls.  Equipment with independent control circuits and safety set-points must be used when unattended heating operations are necessary.  The RCT Basic from IKA is an example of a hot plate with these features.  Educate yourself about these controls and use them whenever possible.
SAFE WORK PRACTICES to REDUCE LIKELIHOOD of INCIDENTS
Use stir-only plates whenever heat is not required.  This is especially important when stirring in containers that are not heat-resistant or mixing materials that should never be exposed to heat, such as those with the potential to ignite, explode, or release gas when heated.
Request "stir" and "heat" labels for hot plates.  To reduce the possibility of inadvertently turning on the heat instead of the stirring function, EHRS provides stickers that can be applied to hot plates knobs to clearly identify their function. Click here to request stickers through our Warning Sign and Label Request Form. 
Do not store flammable and combustible materials in the fume hood or near hot plates.  Chemical containers, flammable-waste containers, and combustible materials such as paper towels must not be stored on or near hot plates regardless of whether the hot plate is currently in use.
Clamp temperature probe securely in bath or heating block.  If the temperature probe is reading ambient temperature, a hotplate will continue to heat beyond desired temperature.
Carefully monitor temperature.  Do not walk away from the hot plate until the bath has reached desired temperature and stabilizes there for several minutes.  When heating chemicals, monitor solution temperature separately from bath temperature.
If the hot plate must be used while unattended, make a plan for reducing the risks. 

Post an "Unattended Operation" sign describing the reaction or materials that are being heated.  Include the date and emergency contact information for the person responsible for the work.  
Double check that all flammable and combustible materials have been removed from the hood.
Use equipment with redundant safety controls such as the RCT Basic from IKA. 
Securely clamp condenser hoses and temperature probes.
Do not leave the apparatus unattended until the target temperature has been reached and is sustained.
REDUCING SEVERITY in CASE of FAILURE
Remove all flammable and combustible materials from the hood and return all chemical containers to their proper storage location immediately after dispensing. 
Unplug hot plates when not in use.  Disconnecting the hotplate from power is the only way to ensure that a processor glitch will not result in spontaneous heating.  Ensure your hotplates are unplugged at the end of the work day.
Do not leave a hot plate unattended when in use.   Use hot plates only when you will be in the lab to continuously monitor the process.  If this is not possible, use the guidance below to reduce risk. 
Further Reading on Hot Plate Electronic Malfunctions:
University of Illinois Division of Research Safety: Warning about Malfunctioning Hot Plates
https://old.drs.illinois.edu/News/Warning-about-malfunctioning-hotplates
Lawrence Berkeley National laboratory:  Hot Plate Switch Failure
http://www2.lbl.gov/ehs/Lessons/pdf/FinalHotPlateLL.pdf
Northwestern University:  Safety Issues of Hotplate Heating Controls
Journal of Chemical Health and Safety. (2019). Catching up with runaway hot plates. Retrieved January 8, 2021 from ACS Chemical Health & Safety: https://dchas.org/wp-content/uploads/2019/03/Catching-up-with-runaway-hot-plates.pdf.