Last Revised: September 01, 2022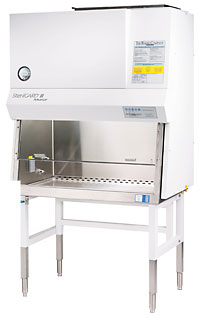 Biosafety Cabinets (BSCs) are designed to provide three basic types of protection:
- Personnel protection from harmful agents inside the cabinet
- Product protection to avoid contamination of the work, experiment or process inside the cabinet
- Environmental protection from contaminants contained within the cabinet
If you are looking to purchase a new biosafety cabinet, need help selecting the type of cabinet or the location for the biosafety cabinet, contact EHRS at 215-898-4453 and ask to speak to a biosafety officer.
Expand All Items
BSC Certification & Repair
BSC Certification & Repair
Biosafety cabinets must be certified annually by a third party vendor. Technical Safety Services (TSS) is a new BSC vendor available on campus that provides certification and repair services. TSS has been vetted and approved by Penn purchasing and a competitive pricing contract is in place with the company. 
A third party vendor must be contacted under the following circumstances:
If you have a new cabinet requiring certification

A cabinet that has been moved requiring certification

A cabinet in need of troubleshooting, repairs, or decontamination
To request service with TSS:
Email: upenn@techsafety.com

TSS can be found in Ben Buys under Technical Safety Services

 
Instructions for preparing your biosafety cabinet for certification/repair
Training
EHRS training is required for all those who will use a biological safety cabinet. Training is available in Knowledge Link under the course title "Biosafety Cabinet Operation."
The following tutorial is a reminder for best practices within the BSC: Use of BSC Tutorial (pdf)
Use of UV Lights in Biosafety Cabinets
UV Lights in Biosafety Cabinets
The University of Pennsylvania does not require UV lights in biosafety cabinets. The Biosafety in Microbiological and Biomedical Laboratories, 5th Ed (Appendix A, Section VI), states the following:
Ultraviolet Lamps
"Ultraviolet (UV) lamps are not required in BSCs nor are they necessary. If installed, UV lamps must be cleaned weekly to remove any dust and dirt that may block the germicidal effectiveness of the ultraviolet light. The lamps should be checked weekly with a UV meter to ensure that the appropriate intensity of UV light is being emitted. UV lamps must be turned off when the room is occupied to protect eyes and skin from UV exposure, which can burn the cornea and cause skin cancer. If the cabinet has a sliding sash, close the sash when operating the UV lamp." 
For additional information, please read the following article:
Position Paper on the Use of UV Lights in BSCs [pdf]
Use of Open Flames in Biosafety Cabinets
The Office of EHRS at the University of Pennsylvania has taken a strong stance against the use of gas burners or alcohol flames in Biosafety Cabinets.
Biosafety Cabinets that are disconnected from existing gas supply during repair or relocation will not be reconnected.
This decision is in accordance with recommendations from numerous agencies. The Centers for Disease Control and Prevention (CDC) reports that "open-flames are not required in the near microbe-free environment of a biological safety cabinet" and create "turbulence which disrupts the pattern of air supplied to the work surface" jeopardizing the sterility of the work area. This is also the recommendation of the World Health Organization (WHO) as well as the major Biosafety cabinet manufacturers.
For more information on how heat sources impact airflow in the BSC, see the Baker Presentation on Heat in a BSC (pdf). Also watch these two Myth Busters Videos on heat in the BSC: Myth Busters - Heat in the BSC! and Heat in the BSC! (Myth Busters Supplement).
Solutions:
Remove Bunsen burners and/or replace with alternative technology such as electric incinerators
Use disposable loops, spreaders, and other instruments
Autoclave instruments such as tweezers, scissors and scalpels
If it is deemed absolutely necessary for the work being done, use a pilotless burner or touch-plate microburner to provide a flame on demand
BSC Disinfection & Chemical Compatibility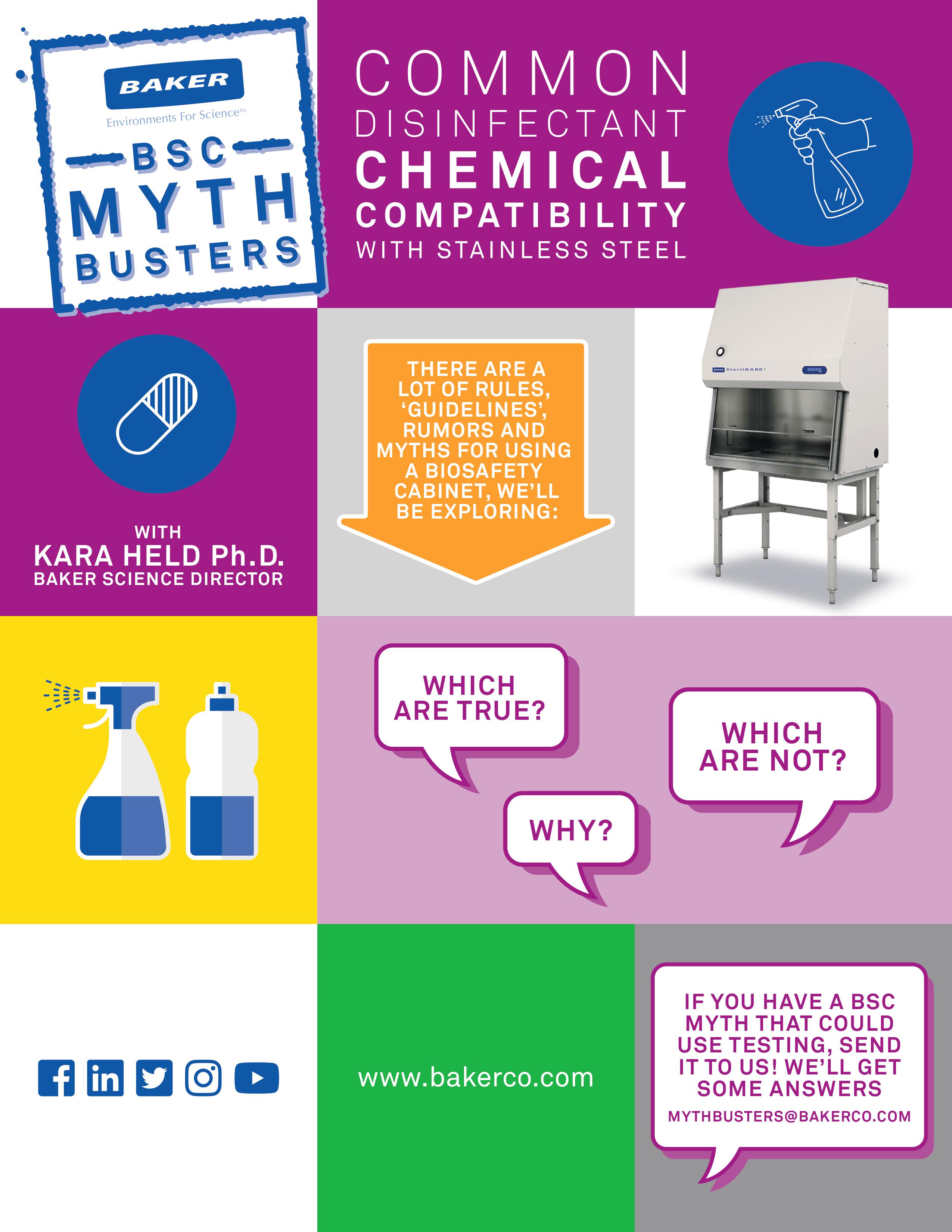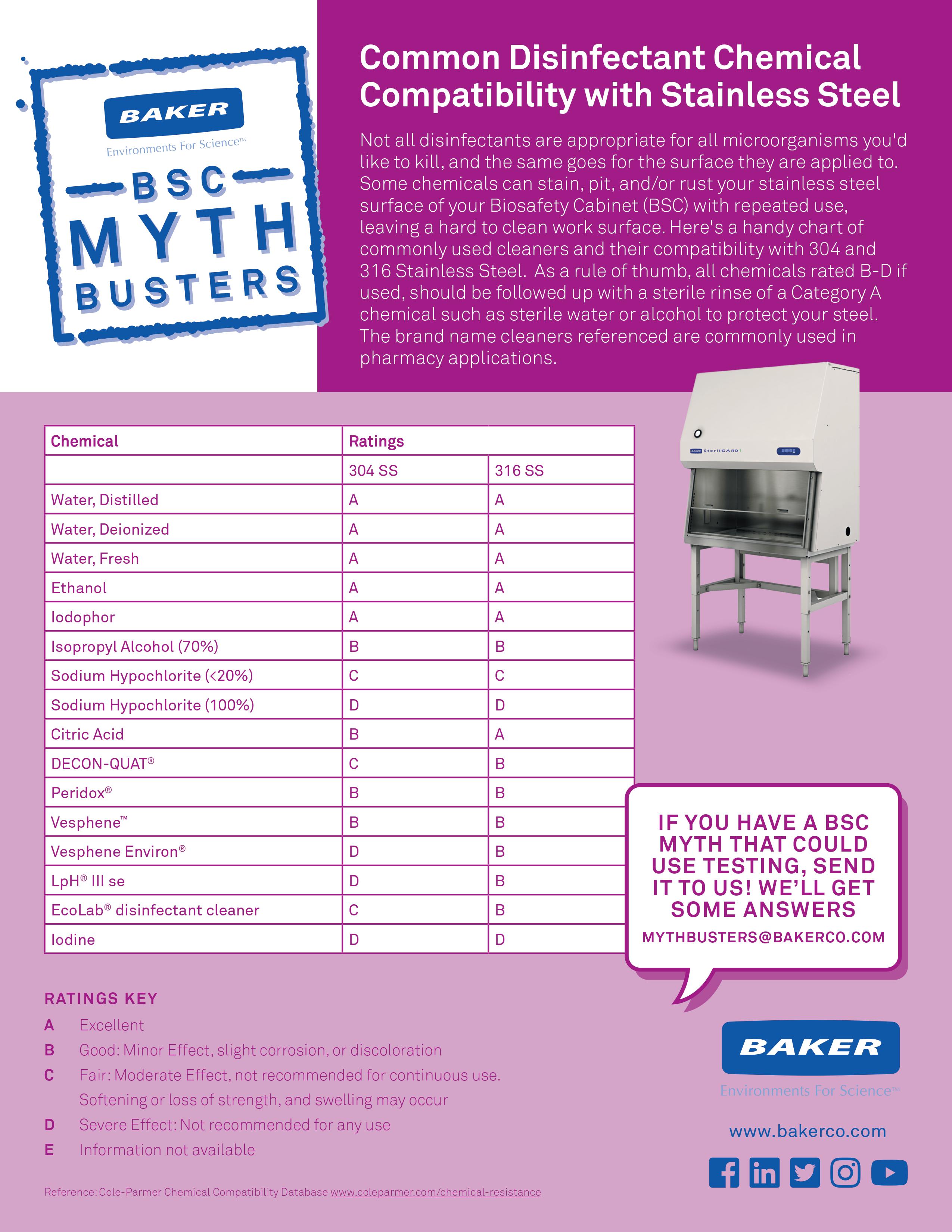 Clean Benches vs. Biosafety Cabinets
Laminar Flow Clean Benches vs. Biosafety Cabinets
Clean Bench Information: 
Horizontal laminar flow clean benches are NOT biosafety cabinets. 

They discharge HEPA-filtered air across the work surface and toward the user.

These devices only provide product protection. 

They can be used for certain clean activities, such as the dust-free assembly of sterile equipment or electronic devices. 

Should never be used when handling cell culture materials or drug formulations, or when manipulating potentially infectious materials.

Workers can be exposed to materials being manipulated on the clean bench.

Horizontal laminar flow clean air benches should never be used as a substitute for a biological safety cabinet in research, biomedical or veterinary laboratories and/or applications.
This information comes from the Biosafety in Microbiological and Biomedical Laboratories (BMBL) Appendix A - (CDC/NIH publication): Primary Containment for Biohazards: Selection, Installation and Use of Biological Safety Cabinets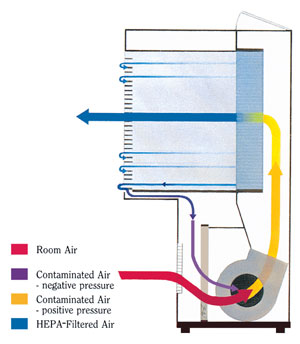 EHRS strongly discourages ANY use of Laminar Flow Clean Benches on campus.
Horizontal laminar flow clean benches are inappropriate for use with any potentially biohazardous material including human source material (clinical specimens, blood, tissue, etc.), cell cultures, infectious agents, or infected animal tissue.

Horizontal laminar flow clean benches are inappropriate for use with uninfected animals (lab animal allergy), hazardous chemicals and volatile radioisotopes.

Work with the above materials should be conducted in a Class II biosafety cabinet.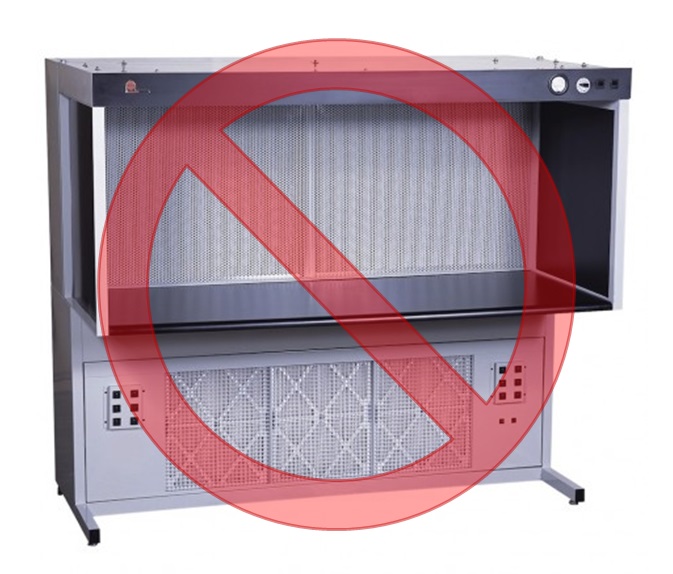 HEPA Filters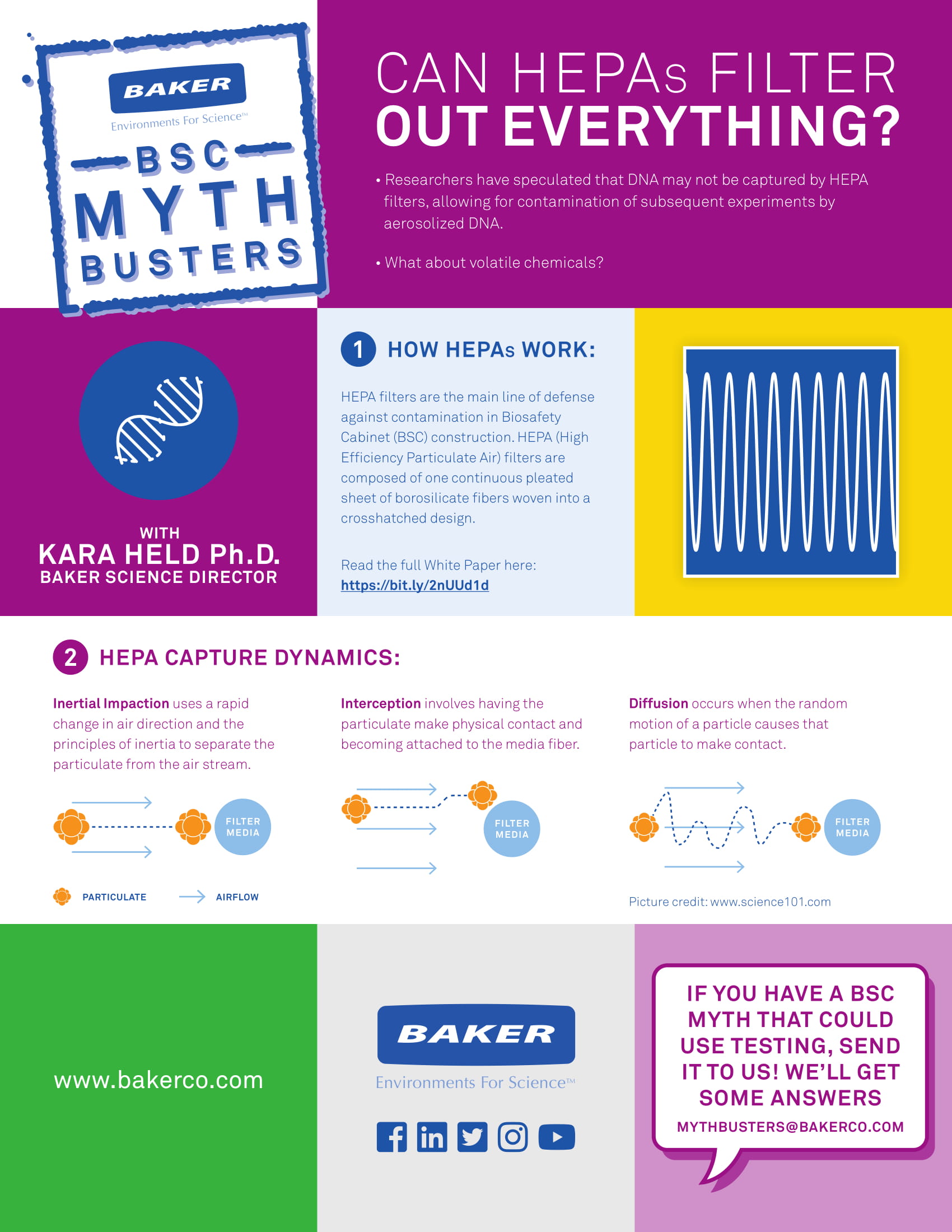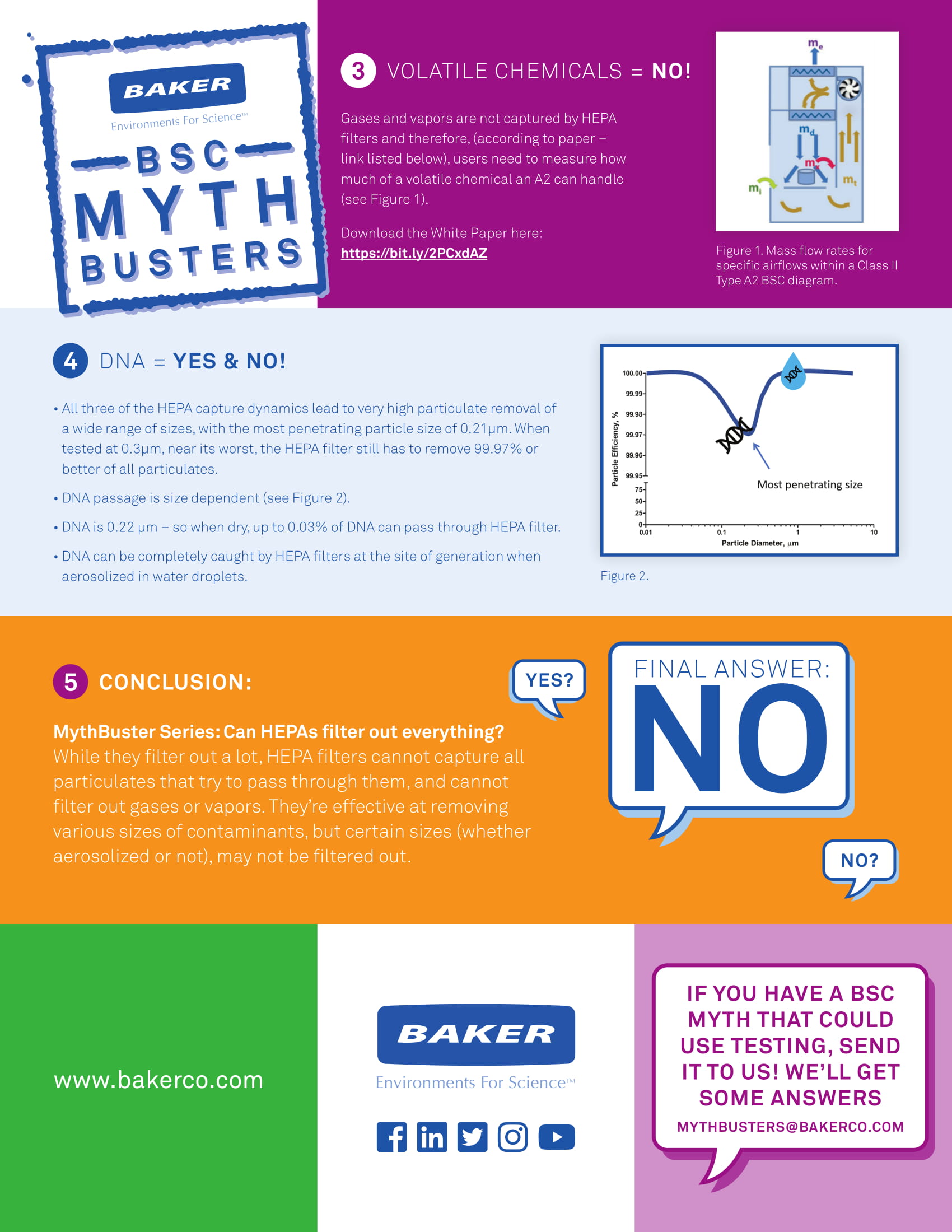 Vacuum System Protection Quick Reference
Vacuum Systems used with a Biosafety Cabinet should be protected with High Efficiency
Particulate Air (HEPA) filters, or their equivalent as stated in the CDC/NIH Guidelines for Biosafety Level 2 work. Filters must be replaced as needed. Liquid disinfectant traps may be required.
See the attached Quick Reference for additional guidance and suggested filters.