EHRS is responsible for the development and implementation of safe and effective management practices for all waste categorized as "infectious" by the Pennsylvania Department of Environmental Protection. Our goal is to manage the handling, sorting, storage, and disposal of all infectious waste generated at the University of Pennsylvania in a safe, environmentally sound manner that complies with all relevant regulations.
General Biohazardous Waste Guidelines for the University:
ALL syringes (with and without the needle), razor blades, and scalpels MUST always be discarded in a puncture resistant and leakproof sharps container.
Click on diagram below to enlarge 
Other Biohazardous Sharps must be discarded in a puncture resistant and leakproof sharps container.  Sharps include anything that could potentially puncture a bag:

    Needles & syringes

    Razor blades

    Scalples

    Pasteur pipettes

    Serological pipettes

    Pipette Tips

    Other pointed devices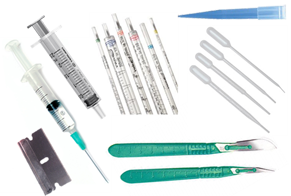 Biohazardous "soft waste" must be discarded in red biohazard bags.  "Soft waste" includes:

    Gloves

    Tissue culture flasks

    Centrifuge tubes

    Other non-sharps material
Infectious waste autoclave bags, red bags, sharps containers, and anything else with the universal biohazard symbol affixed to it DOES NOT belong in General Trash or Recycling under any circumstances! (See the FRES Waste Management and Recycling page or check out this PDF for appropriate lab recycling)
CLICK on the posters below for a printable pdf.  
See Section 8 of the Biosafety Manual for more on infectious waste management and procedures.