Last Revised: March 10, 2023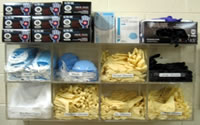 EHRS provides services and resources to ensure worker health and safety while working in the University Laboratory Animal Resources and Gene Therapy departments. EHRS participates in New Employee Orientation training along with an annual training for the entire staff. Biosafety, Hazard Communication, Hearing Conservation, Workplace Safety, Ergonomics, and Materials Handling are the main focus during training and throughout the year.
Anesthetic safety including the use of isoflurane can be found below. 
In the event of a worker injury, the Accident/Injury Report (AIR) form should be filled out at the links below.
Preventing Asthma in Animal Handlers
Anesthetic Gasses (Including Isoflurane)