Last Revised: October 05, 2023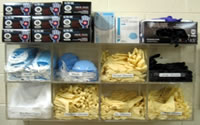 EHRS provides services and resources to ensure worker health and safety while working in the University Laboratory Animal Resources and Gene Therapy departments. EHRS participates in New Employee Orientation training along with an annual training for the entire staff. Biosafety, Hazard Communication, Hearing Conservation, Workplace Safety, Ergonomics, and Materials Handling are the main focus during training and throughout the year.
Anesthetic safety including the use of isoflurane can be found below. 
In the event of a worker injury, the Accident/Injury Report (AIR) form should be filled out at the links below.
Preventing Asthma in Animal Handlers
Anesthetic Gasses (Including Isoflurane)
Expand All Items
Animal Hazard Briefings
PURPOSE OF BRIEFINGS

The purpose of in-person briefings is to boost collaboration and promote a healthy and safe workplace among researchers and ULAR staff at Penn. 
Connect PIs and researchers with the ULAR staff who support their research by providing daily care to our research animals.
Educate ULAR Animal Care Technicians(ACTs), Husbandry Supervisors, and Facility Managers regarding the hazards involved with working with biological agents, recombinant nucleic acids, and human pathogens and to clarify best practices to reduce the risk of exposure or injury to animal facility staff.
Coordinate anticipated housing and care needs, experimental timeline, and potential health outcomes of their animals.
Improve our hazard communication program as essential to our institutional veterinary accreditation (AAALAC) and federal regulatory compliance.
BRIEFING TOPICS & QUESTIONS TO CONSIDER
Research: What is the background of the study and animal work? How will this study improve human understanding or health?
Potential Hazards: What pathogens/hazardous agents will be used in the animals? Why are they assigned as ABSL-2 and how should these agents be handled especially by personnel that work with the animals?
Risk Mitigation: What measures are taken to reduce any risks to staff; and beyond wearing appropriate PPE, what additional precautions must be taken?
Logistics: What is the length of study and the number of cages involved? Are there any special needs? How will used/dirty PPE and cages be disposed of? When is change day and who will be your ACT?
Animal Welfare: How will the animals be impacted and when should animal illness be reported to the clinical team?
TIPS FOR A PRODUCTIVE BRIEFING
Describe your research study using lay terms targeted towards an audience of diverse scientific and educational backgrounds.
Use an informal, conversational, and approachable style. Each person in the meeting should introduce themselves.
Plan for this meeting to last around 20 minutes; no PowerPoint is required.
To schedule your Animal Hazard Briefing, please fill out the Briefing Request form.
Once scheduled with your ULAR facility staff, please inform the Biosafety Team (biosafety@lists.upenn.edu).
COMMONLY ASKED QUESTIONS
What animal research requires a briefing? 

Briefings are required for animal research assigned to ABSL-2 containment. Common examples include, but are not limited to, the use of human source material likes cells and tissue, some viral vectors like lentiviral and adenoviral vectors, and pathogenic agents like LCMV and influenza. 

How often are briefings required?

Briefings are required annually while work is ongoing. Briefings should occur at least a month before work begins.

How will I know my research requires a briefing? 

Your lab will be notified of the briefing requirement during animal research protocol reviews. Briefings will be requested during full protocols reviews and when new material requiring ABSL-2 containment is added during an amendment review.

Do I have to provide a PowerPoint during my animal hazard briefing?

No, please do not provide a PowerPoint. This is an informal conversation about your research. Most facilities do not have the technology set-up.

Who should be invited to the animal hazard briefing?

ULAR Animal Care Technicians(ACTs), Husbandry Supervisors, Facility Managers, Clinical Staff, and Biosafety Officers (EHRS) should be invited to the briefings. Principle investigators and researchers most familiar with the work must also attend.

I don't know what to include in my lab's animal hazard briefing. Who can help me with this?

Reach out to the Biosafety Team (biosafety@lists.upenn.edu) for help! Agent reference cards (listed below) are also helpful.

Can I order new animals or transfer animals into ABSL-2 containment without first conducting an animal hazard briefing?

No, an animal hazard briefing is required for the procurement and transfer of animals into ABSL-2 containment.
AGENT REFERENCE CARDS
Agent reference cards include the hazard associated with an agent or biological material, the risk the agent poses to an animal care technician (ACT), ways to mitigate risk to the ACT, and emergency response in case an ACT is ever exposed to the agent. These agent reference cards may be used to discuss these topics during an Animal Hazard Briefing.