Last Revised: September 25, 2023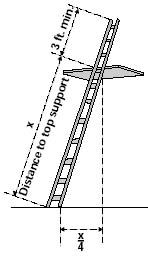 Falls remain a leading cause of unintentional injury mortality nationwide.
Among workers, approximately 20% of fall injuries involve ladders. Among construction workers, an estimated 81% of fall injuries treated in U.S. emergency departments involve a ladder3. Each year in the United States, approximately 500,000 people are treated for ladder - related injures1 and 300 people lose their lives2.
Ladder use in construction activities is one of the most frequently cited Occupational Safety & Health Administration standards.
Injuries from ladder falls can be severe, but are preventable.
Penn's Ladder Safety Program presents methods and procedures to help the Penn Community use ladders safely.
1CPSC (US Consumer Product Safety Commission) [2014]. Unpublished data from the National Injury Information Clearinghouse (CPSC) using the CPSC's Injury Cost Model.
2CDC, National Center for Health Statistics [2017]. Multiple Cause of Death 1999-2015 on CDC WONDER Online Database. Accessed at https://wonder.cdc.gov/mcd-icd10.html.
3Socias C., Chaumont Menéndez C, Collins J, Simeonov P [2014]. Occupational Ladder Fall Injuries – United States, 2011. MMWR 63(16), April 25, 2014; 341-346.