Last Revised: March 17, 2023
As of October, 2019, all of your lab's inventory records have been transferred from CISPro Live to the new ChemTracker module in BioRAFT. To learn more about this new system click HERE.
All laboratories with hazardous chemicals are required to participate in the chemical inventory program.
EHRS provides access to a web-based chemical inventory software.  We also provide chemical-container barcode labels, training materials, and ongoing technical support at no cost to the lab.  If your lab is not already tracking your chemical inventory through the EHRS-provided online system, contact the EHRS Chemical Inventory Team for more information. 
Access to the ChemTracker Chemical Inventory Module
ChemTracker is available through your lab's BioRAFT profile (Pennkey login required).  If you are not yet associated with a lab group in BioRAFT, contact EHRS for assistance.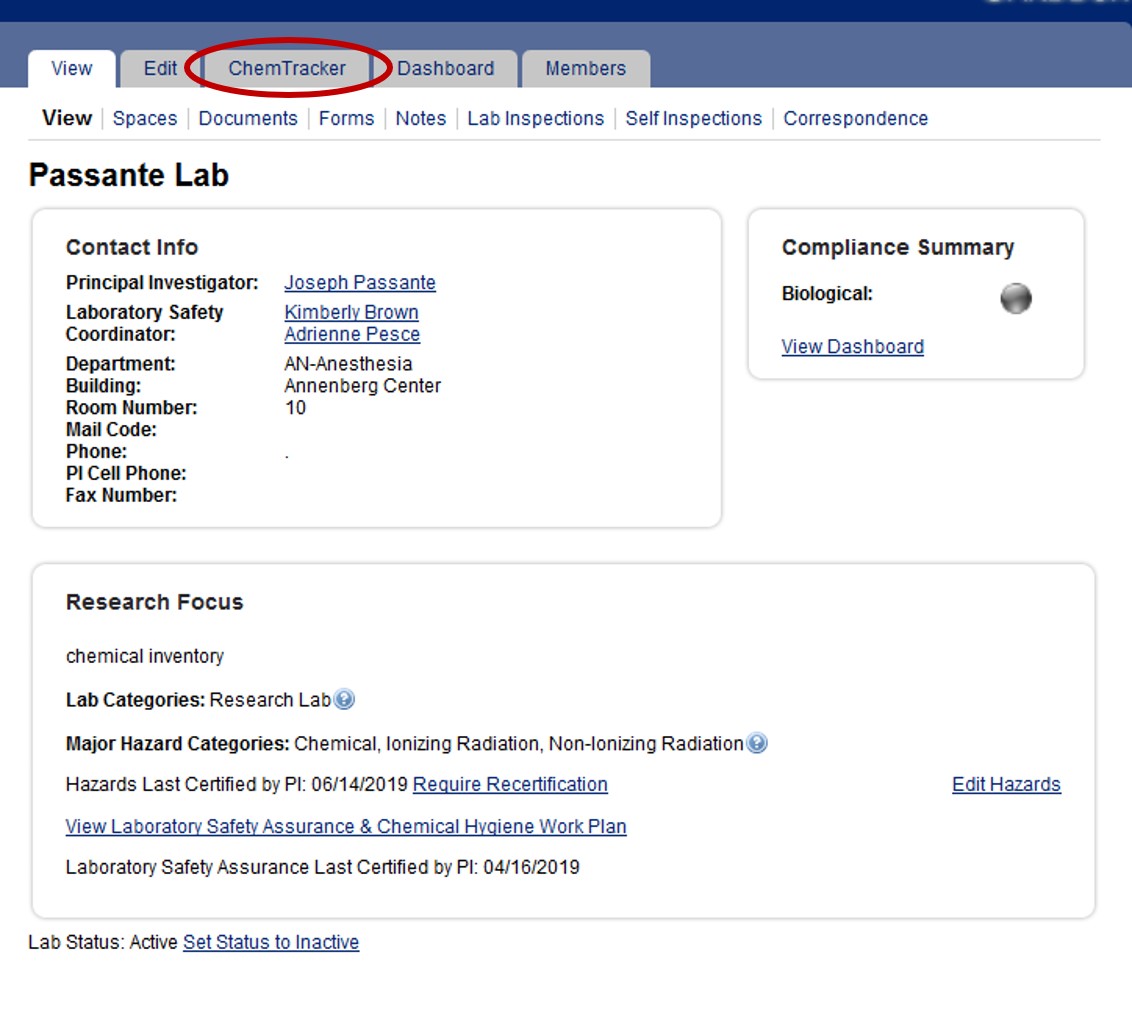 Training
EHRS provides a ChemTracker User's Guide with detailed instructions for the most common chemical inventory tasks.  In-lab training is available on request, but most researchers will be able to navigate the program successfully without in-person instruction.
Equipment Requirements
ChemTracker can be accessed from any modern Penn-supported browser (IE, Firefox, Safari) by logging in to BioRAFTwith your Pennkey credentials.  Pre-printed barcoded labels for chemical containers are provided by EHRS and can be requested using this webform.  We recommend that lab groups purchase at least one USB keyboard-wedge barcode scanner; however, barcode numbers can be manually typed into the system if you do not have a scanner. 
If you are interested in purchasing a barcode scanner directly from EHRS for $40, please contact the EHRS Chemical Inventory Team with your contact information, delivery location, and a 16-digit budget code for the purchase.