Last Revised: June 26, 2023
Revision 1/2022 (K.Brown)
Expand All Items
Hazard Description
Hazard Description
Acutely toxic chemicals are those substances that pose significant adverse health effects for immediate or short-term exposures. The route of exposure that causes the adverse effect may be inhalation, absorption (through skin, eyes, or mucous membranes), or ingestion, depending on the chemical. 
A list of acutely toxic chemicals (which includes "Select Agents toxins") is included at the end of this SOP. The purchase or possession of Select Agent toxins requires registration.
Acutely toxic chemicals have a GHS toxicity category of 1 or 2 and are labeled with the skull and cross bones pictogram.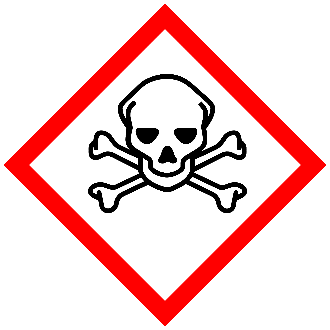 The OSHA lab standard defines Highly Hazardous chemicals with acute toxicity effects as having the following "lethal dose" (as determined by studies in rats):
LD50 - ingestion: < 50 mg/kg
LD50 - contact (24hrs): < 200 mg/kg
LD50 - inhalation: < 200ppm/1hr
(LD50 is the amount of substance that causes fatality in 50% of a test population of rats).
To identify the chemicals with this hazard in your ChemTracker chemical inventory, use the instructions in EHRS Tip Sheet:  Completing a Hazard List Analysis.
Approvals
Approvals
If you or your lab has not worked with this hazard before and you are considering a procedure that requires you to do so, we recommend contacting EHRS for guidance.
All work that involves the handling or transfer of acutely toxic chemicals requires the approval of the P.I.  The P.I. must ensure that the person or team who will be working with the acutely toxic chemicals understands the hazards and has received adequate training and supervision for the procedure. 
For any task that requires safety controls beyond those specified in this SOP, a task-specific Hazard Control Plan (HCP) must be written.  The HCP must be sent to EHRS for review.  EHRS will upload the HCP to the "documents" section of the lab's BioRAFT page.
Training Requirements
Training Requirements
No researcher may work independently with the hazardous material described in this SOP until the Principal Investigator (or their designee) has ensured that the researcher:
Has completed all required EHRS laboratory safety training programs

Understands the hazards of the materials and risks of the processes involved

Has read and understands the contents of this SOP

Demonstrates the ability to execute their work according to the requirements in this SOP
Facility Requirements
Facility Requirements
General Ventilation
Acutely toxic chemicals may not be handled or stored in a room or facility with recirculating exhaust.
Chemical Fume Hood
All work with acutely toxic chemicals in open or closed systems must be done in a designated area of a laboratory inside of a properly functioning chemical fume hood.
Emergency Irrigation
Emergency irrigation (safety shower, eyewash) must be accessible within a 10-second travel distance of the area where the work is performed.
Signage and Labeling
Signage and Labeling
The room sign for the laboratory must contain a "Designated Area" identifier.
In cases where the entire lab is not already considered a Designated Area, all locations within the laboratory where acutely toxic chemicals are handled must be demarcated with designated area caution tape and/or posted with designated area caution signs.  Designated area caution tape is available from EHRS or can be made by writing "designated area" on label tape.   This includes all fume hoods and bench tops where the acutely toxic chemicals are handled.
A legible manufacturer's label including hazard information must be present on all commercial containers of acutely toxic chemicals.
If acutely toxic chemicals are transferred to another container for storage or to make stock solutions for later use, special labeling requirements apply.  See the "Researcher-Created Labels" section in Section IV:  Chemical Container Labeling in this CHP for a complete list of requirements.
Storage and Transport
Storage and Transport
Proper storage and transport of Acutely Toxic Chemicals must be determined by assessing all of the hazards and physical properties of the chemical. 
See Section VI:  Chemical Storage and Transportation in this CHP for a complete list of requirements.
Hazard Controls
Hazard Controls
Engineering Controls
Chemical Fume Hood
All work with acutely toxic chemicals in open or closed systems must be done in a designated area of a laboratory inside of a properly functioning chemical fume hood.
The fume hood is designed to capture chemical vapor and the hood sash acts as a shield in case of chemical splash.  The sash must be kept closed as much as feasible.
Vacuum Protection
Mechanical vacuum pumps must be protected using cold traps and, where appropriate, must include a filter to prevent particulate release.  The pump exhaust must be vented into an approved exhaust duct or chemical fume hood.
Glove Box
Certain acutely toxic chemicals must be handled in a glove box rather than a fume hood. The Office of Environmental Health and Radiation Safety (8-4453) or the Principal Investigator will determine if this is required.
If a chemical fume hood or glove box is not available, contact EHRS to determine whether the risks can be adequately controlled using alternative controls.
Work Practices
A list of recommended work practices for hazardous chemical handling is included in Section V: Chemical Handling in this CHP. Of particular relevance to acutely toxic chemical use:
Considerations for purchase
Do not use acutely toxic chemicals if less-hazardous alternatives are possible.
Purchase, dispense, and use the smallest quantity of acutely toxic chemicals possible. 
Purchase the lowest concentration of acutely toxic chemicals that will meet your research needs.
Considerations for work space
Use disposable work surface covers ("bench protectors") in areas where acutely toxic  chemicals are handled to prevent contamination of work surface.  Change bench protectors daily when acutely toxic chemicals are used, and properly dispose of contaminated covers.
Considerations for handling
Do not handle acutely toxic chemicals when working alone.
Immediately close all containers of acutely toxic chemicals after use.
Due to the risk of splashes and equipment failures, not use a syringe and needle to perform transfers of acutely toxic chemicals in volumes of greater than 5 mL. 
When performing small-volume liquid transfers of highly toxic materials, it is not appropriate to use a luer-slip syringe type because the needle can easily detach from the syringe barrel.  Luer-lock or integrated-needle syringes must be used with these chemicals.  
Do not dispense acutely toxic chemicals directly onto a laboratory balance in the general lab space.  Instead, transfer the material into a sealable pre-tared container inside the fume hood; then take the sealed container to the balance.  Adjust the amount of material inside the container until the desired mass is reached.  Make all adjustments inside the fume hood.
The use of acutely toxic chemicals in laboratory animals may require additional work practice controls.  Contact EHRS if your protocol involves acutely toxic chemicals.
Additional work practices for reducing the risks of any lab procedure involving acutely toxic chemicals must be described in a written Hazard Control Plan.
Personal Protective Equipment
Consider the potential routes of exposure and health consequences when selecting personal protective equipment (PPE) for tasks involving acutely toxic chemicals. 
In addition to the minimum lab apparel and PPE requirements, other protective equipment may be necessary to reduce risks.  When additional equipment (such as tight-fitting chemical splash goggles, chemical-resistant gloves, or disposable lab coats) are required, a Hazard Control Plan must be written to document the risk assessment and controls.
Contact EHRS for assistance with risk assessments, glove compatibility, and other PPE selection.
The minimum PPE requirements for all chemical handling tasks, and information about specialty PPE can be found in the "Personal Protective Equipment" section of Section V:  Chemical Handling in this CHP.
Waste and Decontamination
Waste and Decontamination
Wash hands thoroughly with soap and water after handling any chemical and whenever you leave the lab.
Use good housekeeping practices to avoid contamination of surfaces, garments, personal belongings, and self.
Decontaminate all surfaces that have come in contact with acutely toxic chemicals and clean-up small spills promptly.  See the chemical Safety Data Sheet or contact EHRS for assistance with determining an appropriate decontamination method.  See "Spills" below for instruction on what to do in the event of a large or hazardous spill of an acutely toxic chemical.
For complete hazardous waste guidelines, see the waste section of the EHRS website: Laboratory Chemical Waste Management Guidelines
 "P-listed" Chemicals, Special Disposal Considerations
Unused or unopened chemicals will meet the definition of a listed hazardous waste if they appear on one of two EPA lists.  The U-list contains materials that are hazardous and the P-list contains materials that are acutely hazardous.  These lists only apply to unused materials that have one of the listed chemicals as the sole active ingredients.  The list also applies to spill cleanups of these unused materials.   The complete U-list and P-list are available at EPA Waste Hazardous Waste Codes.
Empty containers that previously contained a P-listed chemical such as sodium azide or cyanide salts are regulated as a hazardous waste.  These containers must be labeled with a hazardous waste label and given to EHRS for disposal. 
Empty containers of most other liquid or solid chemicals that are not on the P-list can be triple rinsed, defaced, and discarded as regular trash or glass waste as appropriate.  See Fact Sheet: P-Listed Hazardous Waste for additional information. 
Select Agent Toxins
"Select Agent Toxins" must be destroyed prior to waste disposal.  Information on the Destruction of Select Agents can be found on our website.
Emergencies
Emergencies
Emergency Contacts
General emergency response information can be found at Emergency Info
Spills
General procedures for chemicals spill response can be found in Section X: Chemical Spills in this CHP.
Do not hesitate to call EHRS for assistance with spill cleanup for Acutely Toxic Materials
24 hours: 215-898-4453
Contact Penn Police (511) only if the spill involves a fire, imminent risk of fire, an injury requiring an ambulance, or if there is a hazard that may affect others in the building.
List of Acutely Toxic Chemicals
List of Acutely Toxic Chemicals
This list, found in Prudent Practices in the Laboratory: Handling and Management of Chemical Hazards, Updated Version (2011), is provided as a guide of Acutely Toxic Chemicals commonly found in labs and is not a comprehensive list.
Examples of Compounds with a High Level of Acute Toxicity
| | | |
| --- | --- | --- |
| Acrolein | Hydrogen cyanide | Ozone |
| Arsine | Hydrogen fluoride | Phosgene |
| Chlorine | Methylfluorosulfonate | Sodium azide |
| Diazomethane | Nickel carbonyl | Sodium cyanide and other cyanide salts |
| Diborane (gas) | Nitrogen dioxide | Tetramethylammonium hydroxide (TMAH) |
| Dimethyl mercury | Osmium tetroxide | |
Links are included for the chemical's Safety Fact Sheet for those that have one in the Penn CHP.
Penn's Chemical Hygiene Plan also includes specific safety information about the following acutely toxic chemicals:
Related SOPs and Fact Sheets
References
References
This SOP was based on the previous version of "EHRS SOP for Acutely Toxic Chemicals" and the following additional resources:
National Research Council. 2011. Prudent Practices in the Laboratory: Handling and Management of Chemical Hazards, Updated Version. Washington, DC: The National Academies Press. https://doi.org/10.17226/12654.