Last Revised: April 20, 2018
An explosion caused by hydrogen gas used with an anaerobic chamber in a University of Missouri biochemistry research lab on Monday injured four people and destroyed the laboratory.  A report from Chemical & Engineering News summarizes the incident.  Four people were injured in the explosion.  One person is hospitalized.  Damages are expected to exceed $750,000.
Anaerobic chambers are used to work with oxygen sensitive organisms.  The anaerobic chambers contain various concentrations of hydrogen, carbon dioxide and nitrogen.  A catalyst system scavenges trace amounts of oxygen from the chamber.  Because the concentration of hydrogen in an anaerobic chamber may exceed the lower explosive limit of 4%, extreme care must be taken to prevent oxygen from entering the chamber.
This was not the first anaerobic chamber explosion to occur in a research lab.  Explosions have occurred due to the inadvertent admission of air into a chamber during maintenance and due to the use of a mixture of 95% hydrogen/5% nitrogen instead of 95% nitrogen and 5% hydrogen.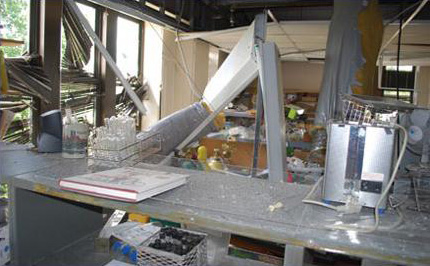 Lessons Learned
Use non-flammable mixtures of hydrogen (4%) where possible.

Always purchase the smallest cylinder of flammable gas needed.  Avoid purchasing full sized cylinders.

Verify the identity of gases before use.  It is not uncommon to received incorrect gas mixtures.

On start up flush chambers with nitrogen gas instead of hydrogen mixtures.

Leak test the chamber on start up.

Know how to purge the air lock on your anaerobic chamber.  Improper use of the air lock can admit oxygen into the chamber.

Monitor the oxygen concentration in the chamber.  Replace oxygen indicators as recommended by the manufacturer.