Last Revised: November 16, 2023
ChemTracker is accessed through your lab's BioRAFT Profile (Pennkey login required)
ChemTracker User's Guide
Click below to access the ChemTracker's User Guide.
"Problem-Container Form" for New Materials
Don't stress if you're having trouble matching a container to a chemical or product record in the system. Simply submit a "Problem-Container Form" and we will create the chemical record for you.  We'll email you to let you know when the record has been created and provide instruction for adding this material to your inventory in the future.
Request More Chemical Inventory Barcode Labels
Barcode stickers for your chemical containers are provided by EHRS in rolls of 250 labels.  Request more barcode labels using the Warning Sign and Label Request Form.  The barcode request section is towards the bottom of the form (see image below).  A member of the EHRS Chemical Inventory Team will deliver the labels to your lab.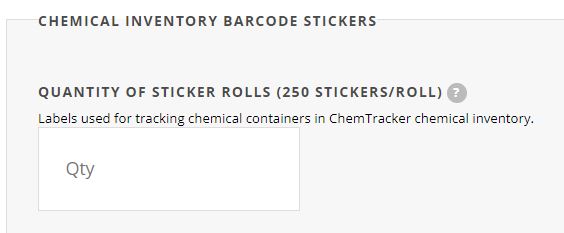 Searching for Chemicals Outside of Your Lab
The EHRS Chemical Inventory Team can search the campus inventory records for chemicals you wish to borrow from another lab.
Use the webform to submit your search request.  Remember that all chemical sharing is voluntary and requires the permission of the lab that owns the chemical as well as the approval of the PI for the lab that wishes to borrow or adopt the chemical. 
Request Changes to BioRAFT Lab Locations (spaces)
If your lab's assigned building or room locations are not accurate in BioRAFT, submit corrections to EHRS using this webform.
If your lab is closing, moving, or down-sizing, the EHRS Chemical Inventory Team can assist you with updating your ChemTracker records to relocate records to their new locations or remove records for containers that are being discarded.  Please contact us at cheminv@ehrs.upenn.edu so we can help you.
ChemTracker Barcode Scanout Sign
Lab members can remove barcode stickers off empty containers and place them on the attached sign. The individual in charge of keeping ChemTracker up-to-date would then have all the empty barcodes right in one place to bulk delete them from the system. See the "Disposing of Chemical Inventory" section of our ChemTracker User's Guide for more information. 
ChemTracker Help Documents and Tip Sheets
For instructions on the most commonly used ChemTracker functions, view or download the ChemTracker User's Guide above.
The following documents may also be helpful:
Request an In-Lab ChemTracker Training Session
Non-mandatory training is available on-request from the EHRS Chemical Inventory Team.  Please use this webform to schedule a training session.