Last Revised: January 29, 2019
Revision - Original 4/2018
The requirements in Penn's Chemical Hygiene Plan SOP:  Acutely Toxic Chemicals apply to all work involving sodium azide.  The Fact Sheet below gives hazard information and precautions for working with this chemical; however, this information is provided as a supplement to the SOP, which must first be read and understood by anyone planning to work with this chemical.
Expand All Items
Uses
Uses
Sodium azide (NaN3, CAS: 26628-22-8) is used in dilute solutions as a preservative of biological samples and stock solutions. Typical concentrations for use as a preservative are from 0.02 % to 0.1 %. Sodium azide is also used in laboratories as a reagent in synthesis work.
Hazard Description
Hazard Description
Health Hazards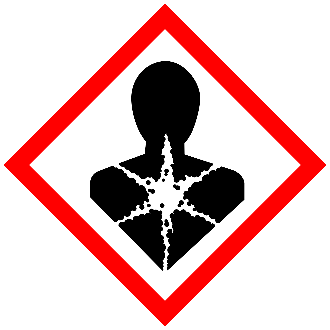 Solid sodium azide is considered a "highly toxic chemical" as it is GHS Acute Toxicity category 1 for acute dermal toxicity and category 2 for acute oral toxicity.  Sodium azide is also category 2 for specific target organ toxicity (brain) from repeated oral exposure.
Routes of Exposure
Sodium azide can be absorbed through skin, by ingestion, or inhalation
Symptoms of Exposure
Ingestion or inhalation of sodium azide may cause dizziness, weakness, blurred vision, dyspnea (shortness of breath), hypotension (low blood pressure), slowed heart rate, and abdominal pain. Spasms, convulsions, and loss of consciousness may also occur.
Dermal or eye exposure to sodium azide may result in pain and redness of exposed areas. Eye exposure may also lead to blurred vision. 
Physical Hazards
Sodium azide is explosive when heated or on contact with lead, copper, zinc, cadmium, or nickel.  When mixed with acid, or on contact with these metals, sodium azide releases toxic gas (hydrazoic acid).
Purchase Recommendations
Purchase Recommendations
Whenever possible, sodium azide should be purchased as a pre-mixed stock solution of less than 5%. The diluted solution is less hazardous than the solid or more concentrated solutions.
Less Hazardous Alternatives
Use less toxic preservative when possible.  The product below is a popular alternative to sodium azide.
ProClin Preservatives: https://www.sigmaaldrich.com/life-science/biochemicals/biochemical-products.html?TablePage=111264510
(EHRS Update:  As of January of 2019, chemical vendors are not permitted to sell ProClin for any purpose other than in vitro diagnostics.  Proclin is a known pesticide recognized by the EPA, commonly used for killing microbes or as a preservative deterrent against microbial growth. Vendors that do not currently hold an EPA license that allows the sale of preservatives/microbicides cannot sell this product. Millapore-Sigma does have an EPA-FDA exemption that the chemical be used for IVD use. The FDA defines IVD's as "in vitro diagnostics are tests that can detect diseases, conditions, or infections."  We recommend that you contact the vendor's technical service department for advice on less-hazardous alternatives to sodium azide for your specific application.)
Safe Handling, Use, and Disposal
Safe Handling, Use, and Disposal
The Chemical Hygiene Plan SOP for Acutely Toxic Chemicals contains general guidance for safe handling and proper disposal of highly toxic materials.  You must read and understand this SOP before working with sodium azide.
Special Considerations for this chemical
Reaction mixtures containing sodium azide should not be concentrated by rotary evaporation.  If rotary evaporation cannot be avoided, a Hazard Control Plan must be in place to describe how the risks will be minimized. Contact EHRS for assistance with your HCP.

Never use metal spatulas for weighing and transferring azides. Never scratch solid azides.