Last Revised: January 07, 2021
This Standard Operating Procedure (SOP) applies to the disposal of all sharps at the University of Pennsylvania. Sharps include both infectious waste used sharps and sharps that pose a safety hazard to custodians and other personnel. All sharps must be segregated according to hazard class and disposed in infectious waste sharps containers.
Click on poster below to enlarge.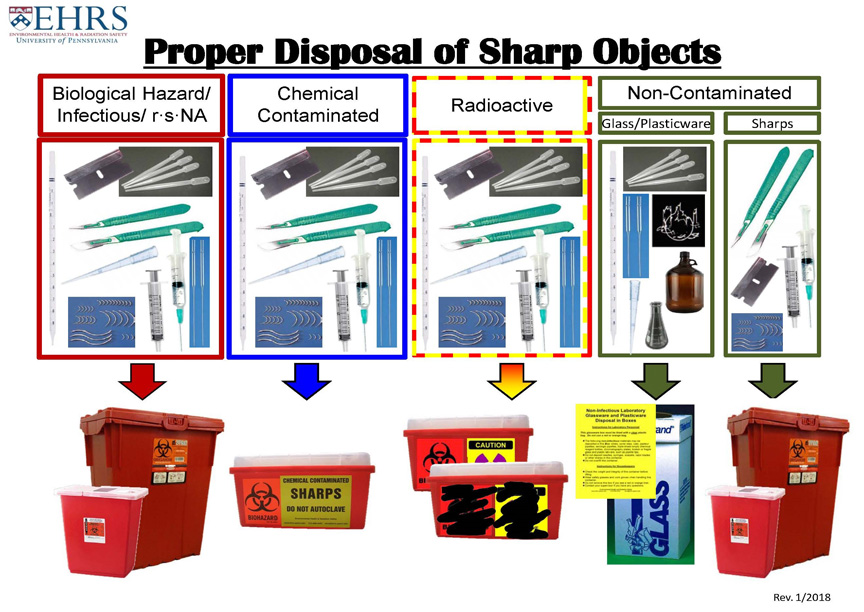 Refer questions about the disposal of sharps to EHRS at 215-898-4453 or email the office at ehrs@ehrs.upenn.edu.
For information on the proper disposal of noninfectious glassware see the Laboratory Glassware/ Plasticware Disposal Policy.
Reusable Sharps Container Program
Labs can sign up for the Reusable Sharps Container Program by contacting Curtis Bay Medical Waste Services. Labs in the Vet and Engineering Schools, and Chemistry Departments should contact their building administrator to sign up. Details about the program and how to sign up can found at Information on the Reusable Sharps Container Program