Last Revised: April 11, 2022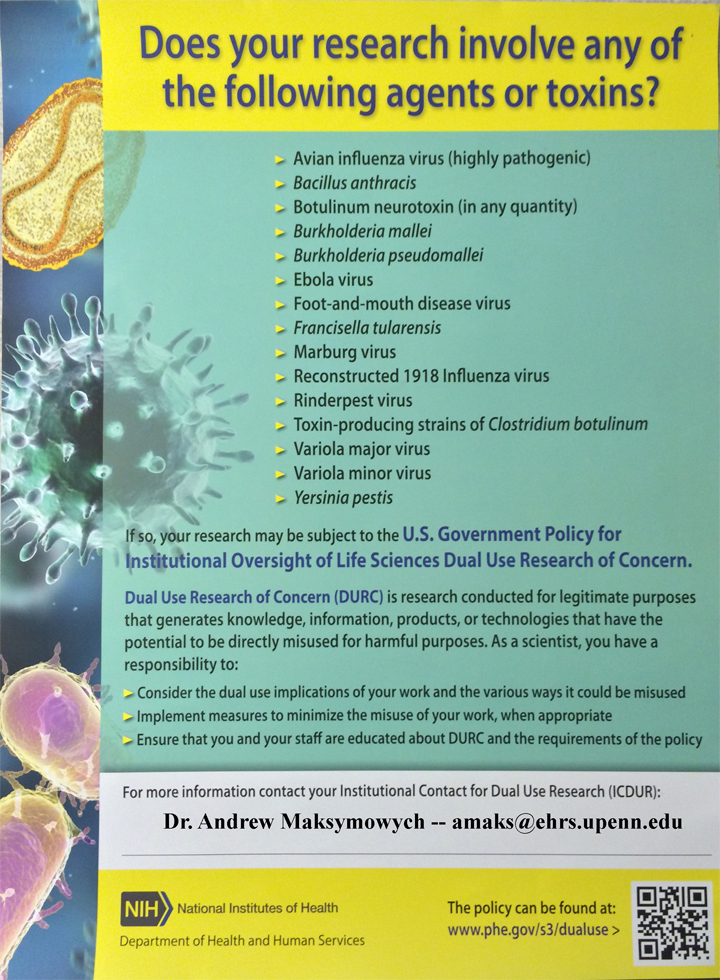 Government Policy for Institutional Oversight of Life Sciences DURC 
On September 24, 2014 the United States Government issued the final US Policy for Institutional Oversight of Life Sciences Dual Use Research of Concern (DURC). The effective date is September 24, 2015.
The policy articulates the responsibilities of institutions and investigators to identify and manage any risks associated with DURC.
What Is DURC?
DURC is life sciences research that based on current understanding can be reasonably anticipated to provide knowledge, information, products or technologies that could be directly misapplied to pose a significant threat with broad potential consequences to public health and safety, agricultural crops and other plants, animals, the environment, materiel, or national security. The policy addresses institutional oversight of DURC. This is considered the critical component of a comprehensive oversight system because institutions are most familiar with the life sciences research conducted in their facilities and are in the best position to promote and strengthen the responsible conduct and communication of DURC.
University of Pennsylvania DURC Registration Form (pdf)
Regulations and Resources
U.S. Government Policy for Institutional Oversight of Life Sciences DURC (pdf)
A Companion Guide to the U.S. Government Policies for Oversight of Life Sciences DURC (pdf)