As of August 5, 2021, masks are required indoors in public and shared spaces for ALL, including those who are fully vaccinated.  Public health guidance on campus continues to evolve. Visit coronavirus.upenn.edu/content/public-health-guidance for current information.
Because the thickness and quality of materials used in improvised cloth face coverings and many commercially sold masks can vary significantly, EHRS has set minimum construction standards for masks and cloth face coverings used by Penn Faculty, staff, students and non-affiliates at Penn.  Please follow this guidance, unless you work in a department or clinical space with requirements that supersede these recommendations. 
Surgical-style masks and Penn-Branded cloth face covering (purchased in late 2020 and early 2021) have been in use at Penn since March 2020 by Penn's research community and essential workers.  There has been no documented cases of workplace transmission in the Penn community when proper masking and distancing is followed.
Recommended universal use masks and face coverings listed in order of cost. The first three options all provide excellent source control when properly worn.
Non-medical grade surgical-style:  These masks contain a middle layer of melt-blown polypropylene to capture small particulates, are inexpensive, easy to obtain, and provide low breathing resistance.  These are the only masks recommended for double-masking with a cloth face covering.   Most cost effective option.
ATSM Level 1, 2 or 3 procedure masks:  These are medical products which are now in sufficient supply for source control use.  
American Society for Testing and Materials (ASTM) F3502 labeled mass approved by EHRS: (Filter rating of 2, breathing resistance 2).  Note that these masks do not require and branding.  They will be label with the ASTM standard number.  These are masks are more expensive than non-medical grade and medical grade masks, however these masks tend to provide the best facial fit. See important details below.  Currently approved  Aries 40-hour face mask.
Permissible when approved and reviewed by EHRS. Specific models of Penn-Branded cloth face coverings purchased through a limited number of a Penn-Approved suppliers are acceptable.  EHRS believes and the literature supports that the performance of cloth face coverings alone may not always achieve the same level of source control as non-medical grade surgical-style, ATSM Level I, II or III procedure masks or ASTM F3501 (2,2,) masks.  See important details below. 
Specialty masks
Transparent masks for situations where mouth visibility is required.  See below for specific product recommendations.
Mask Descriptions
Non-medical grade surgical-style Masks 
EHRS recommends that Penn-affiliates wear non-medical grade surgical-style as their primary mask. Surgical-style procedure masks are constructed with three layers. The two outer layers consist of non-woven fabric made of polypropylene (typically) with densities of 20 or 25 grams per square meter (gsm). The center layer consists of a melt blown polypropylene layer which filters using both mechanical and electrostatic properties. This results in a mask that is highly effective at filtration with very low breathing resistance. If gaps occur, double masking with a cotton mask or following the Maximizing the Fit recommendations will improve protection. 
ASTM F2100  Level 1, 2 or 3 masks.
These are medical grade face masks.  Masks filter at 95% (Level 1) or 98% (Levels 2, or 3) at 3 um.  
American Society for Testing and Materials (ASTM) F3502 labeled masks.  These masks are tested and rated barrier face coverings. The standard established uniform testing criteria for respiratory droplet source control, filtration, breathability, and labeling of face coverings.  This standard allows end users to directly compare the performance of different mask products.
The label "MEETS ASTM F3502" will be printed on face coverings that have been determined to meet these specifications by an accredited testing laboratory.   EHRS recommends ASTM level 2 masks (level 2 for both filtration and breathing resistance) that do not contain a removable filter. 
Approved: Level 2 Mask Aries 40-hour face mask.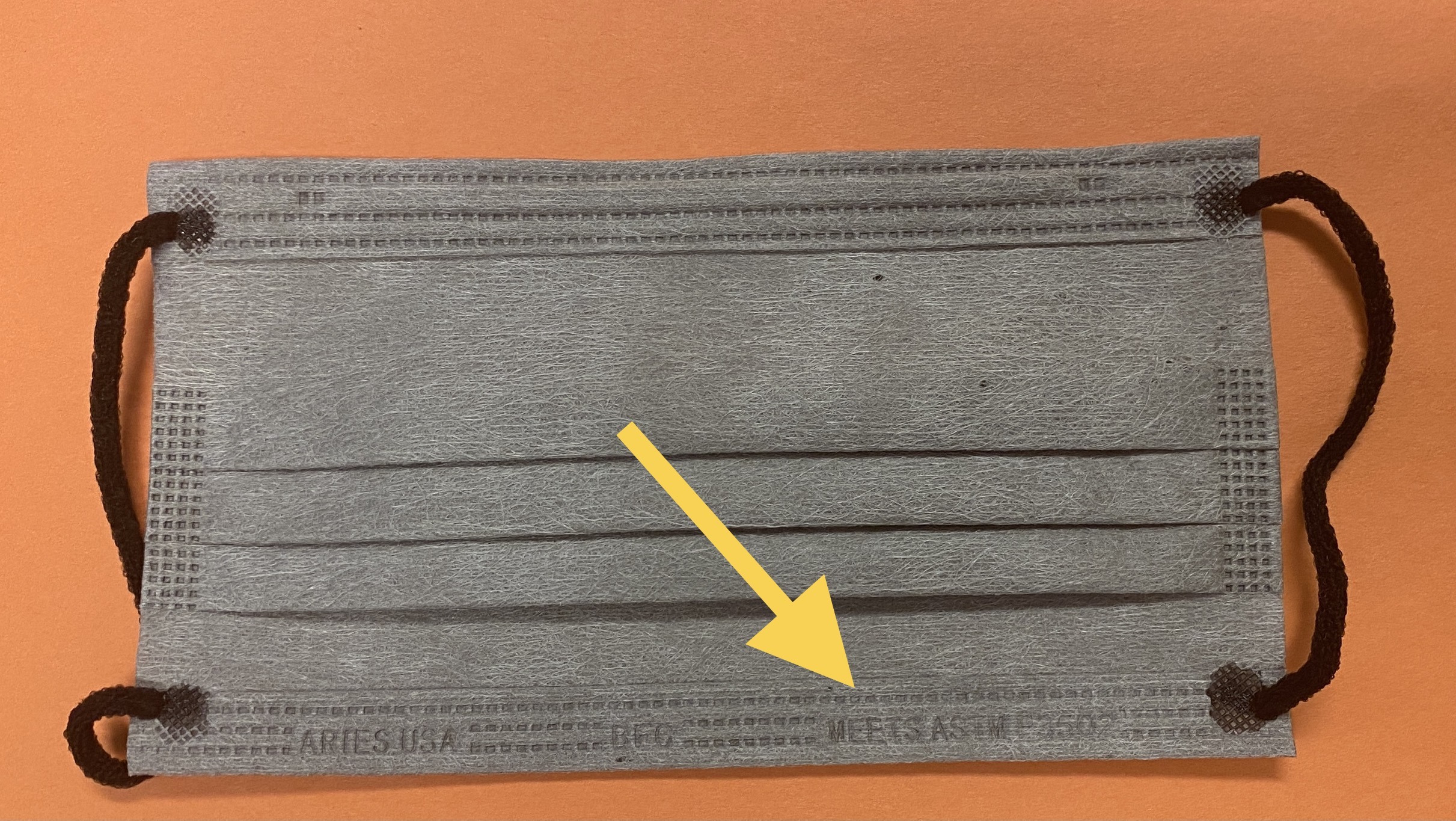 Penn-Branded and previously purchased Penn-Approved (unbranded) Cloth Face Coverings  Penn-branded or other cloth face coverings, also called masks, are approved for use in Penn buildings, but there are now better options available for source control.  These face coverings must be made of 3-layers of 150 gsm cotton or 2-layers of 185 gsm cotton.  Note that cloth face coverings must fit tightly to the face.  Do not wear if there are gaps. EHRS and Penn Purchasing services has worked with vendors to ensure that masks purchased from approved vendors are made of thick enough cloth to adequately filter, but also allow breathability. 
Penn-Approved (unbranded) Cloth Face Coverings were supplied by some schools and centers for specific activities.  These face-coverings are identical to the branded masks but were not branded to reduce cost.
Double Masking 
Surgical masks may not form a tight seal on all faces, thus reducing the effectiveness of the mask.  Concerns regarding new variants of SAR-CoV-2 that may be more transmissible has emphasized the need for improved mask protection.  Double-masking, placing a cloth face covering over a surgical mask, improves the facial seal and also provides a second filtration barrier.  Double-masking is encouraged for use at Penn; however, it may not be possible for everyone.  Double-masking is most valuable in close-distance situations in the lab, on public transit, and off-campus, where the quality of masks and proper mask wearing may be less consistent. 
Do not double-mask with two cotton face coverings, or over respirators, or masks that contain filters. This can make it difficult to breathe. The mask closest to your face must be a non-medical grade surgical-style procedure mask.  The second mask, worn over a surgical-style mask, may be a Penn-branded cotton cloth face covering or any home-made or purchased face covering. See Maximizing Fit for Cloth and Medical Procedure Masks to Improve Performance and Reduce SARS-CoV-2 Transmission and Exposure
Reuse
You should reuse your surgical-style mask until it becomes torn, visibly soiled or hard to breathe through. Cloth face coverings should be laundered daily at home using household supplies.
Transparent masks
In situations where lip reading or facial recognition is necessary, a transparent mask may be used.  Please see the table below for specifics on clear masks options and choose based on the population of people who need to use them. Click on product name to go to webpage.
If you are working in a healthcare setting, choose one of the two FDA approved masks from the target group "Healthcare Facilities/Nursing".
| | |
| --- | --- |
| Mask | Target Group at Penn |
| Bendshape Quartz (general purpose) | General population |
| Bendshape Quartz Surgical Mask (ASTM3) | Healthcare facilities/nursing |
| ClearMask Non-Medical Consumer Transparent Face Mask | General population |
| ClearMask Transparent Surgical Mask | Healthcare facilities/nursing |
| | General population |
Face Shields 
CDC does not recommend using face shields as a substitute for masks. However, when combined with a mask, a face shield protects the eyes of the person wearing it. Face shields must be used when lab work makes it impossible to maintain distancing. Choose a face shield that wraps around the sides of your face and extends below your chin or a hooded face shield. This is based on the limited available data that suggest these types of face shields are better at preventing spray of respiratory droplets. See CDC Guidance
Respirators
N95 Respirators
N95 respirators are made from the same material as non-medical grade surgical style masks but provide a closer fit than a surgical mask.  The CDC does not recommend the use of N95 respirators as a face mask. CDC N95 Guidance. N95 respirators only provides the expected protection when used correctly and are fit tested.
KN-95 Respirators 
KN95 respirators are filtering facepiece respirators typically made in China that have not been tested for compliance with US standards.  Counterfeit KN95s are in circulation and CDC has estimated that up to 60% of KN95's are counterfeit. 
The CDC has updated guidance on the use of KN95s as a face mask (not respirator) HERE, and the requirements for the choice of KN95s as face masks HERE. 
Not Permitted
One-way Exhalation Valves
One-way exhalation valves, which permit unfiltered air to be released by a mask or respirator, are not permitted.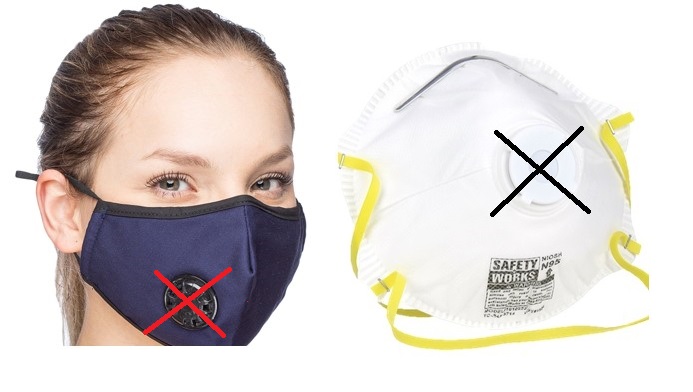 Issued 4/7/2020
4/24/20 Revised with Surgical-style mask information
5/4/20 Revised with one-way exhalation valve information
5/26/20 Revised with private office/cubicle information
8/4/20 Revised with Penn-Provided cotton mask
8/26/20 Storage guidance removed
11/12/20 Masks may also protect you!
1/20/21 Revised Universal Mask information
2/1/21 Revised to reflect double masking 
2/10/21 KN-95 performance
3/23/21 Revised to include information about ASTM standard for face coverings 
5/25/21 Revised with new Philadelphia outdoor mask guidance
6/17/2021 Revised with indoor mask guidance
8/5/2021 Revised indoor mask guidance
8/20/21 Revised with CDC N95 and KN95 guidance
8/23/21 Page reorganized for clarity
9/3/21 ASTM tested mask added
9/22/21 ASTM Level 1-3 surgical masks added
9/23/21 Penn-Branded cloth face coverings downgraded.