Last Revised: June 17, 2020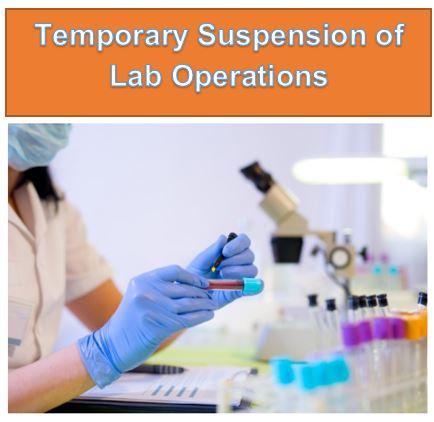 Revised 3/17/2020 @ 11:27am
EHRS offers the following guidance to assist you with the temporary suspension of operations in your lab.  Please note that EHRS continues to provide essential services and can be reached at 215-898-4453 (24-hours a day).
Communication
Update your lab communication lists. BioRAFT has a "send lab message" feature that can assist in lab communications. Ensure all lab staff are listed in the members section of your BioRAFT protocol. Test your communication systems.
Perelman School of Medicine personnel should subscribe to relevant building alerts using PSOMReady.
Review your mission continuity plan for your school or center. Ensure you have contact information for your building administrators.
Access to buildings will be limited to "essential personnel". Follow your school or center's procedure to ensure that your lab's "essential personnel" will have access.
 
Waste Materials
Dispose of all chemical waste. Waste collection requests: https://ehrs.upenn.edu/health-safety/regulated-waste/chemical-waste
Dispose of all infectious waste. Disposal guidance for infectious waste can be found here.
Infectious Waste collection will serviced by school facilities staff or Penn's waste vendor.
Radioactive waste pickups are suspended until further notice.  There are no specific time constraints for storing radioactive waste so this waste can remain in your lab until normal university operations resume.  If a special need would arise, please submit a radioactive waste request or call 215-837-7124.
 
Procedure rooms
Coordinate with other lab groups regarding support of shared carbon dioxide systems. Speak to your school facilities office concerning receipt of gas cylinders.
Decontaminate the inside surfaces of biosafety cabinets. Close sash and power down. Do not leave UV light on.
Empty and disinfect aspirator collection flasks.
Check that incubator and freezer doors are fully closed.
 
Cryogen Use
NMR systems will need to be periodically refilled. Ensure that you are able to obtain liquid nitrogen or helium. Refilling should not be done alone.
Users of the Perelman School of Medicine liquid nitrogen fill stations in Smilow and Anatomy-Chemistry should confirm that these stations will remain in operation. AirGas can supply liquid nitrogen if these facilities close.
Establish a plan to support liquid nitrogen cell storage dewars.
 
General Safety
Remove all hazardous chemicals from the bench area. Store all flammables liquids in flammable-liquid storage cabinets.
Secure all compressed gas cylinders. Ensure all gas cylinders are shut off at the cylinder valve.
Remove regulators and cap cylinders that are not in use.
Removal all chemicals from your fume hood. Close the sash of your hood.
Power down and unplug all lab equipment, especially hotplates.
Check all natural gas valves and ensure they are fully turned off.
Glove boxes require periodic inspection to maintain proper atmosphere. Ensure glove boxes are checked weekly.
Remove combustible materials and clutter from areas around continuously operating equipment such as vacuum pumps.
 
Supplies
Do not order any new research materials. Cancel orders for non-essential supplies.