Issued 4/15/2020
Revised 4/24/2020 with surgical-style mask information
​Revised 5/4/2020 with one-way exhalation valve information
Revised 5/19/2020 with Non-NIOSH Approved and Counterfeit Respirators
Revised 7/27/20 with Penn cloth face covering
Revised 9/28/20 updated language
Revised 1/20/21 with general KN95 use information
Revised 3/19/2021 with 3M counterfeit respirators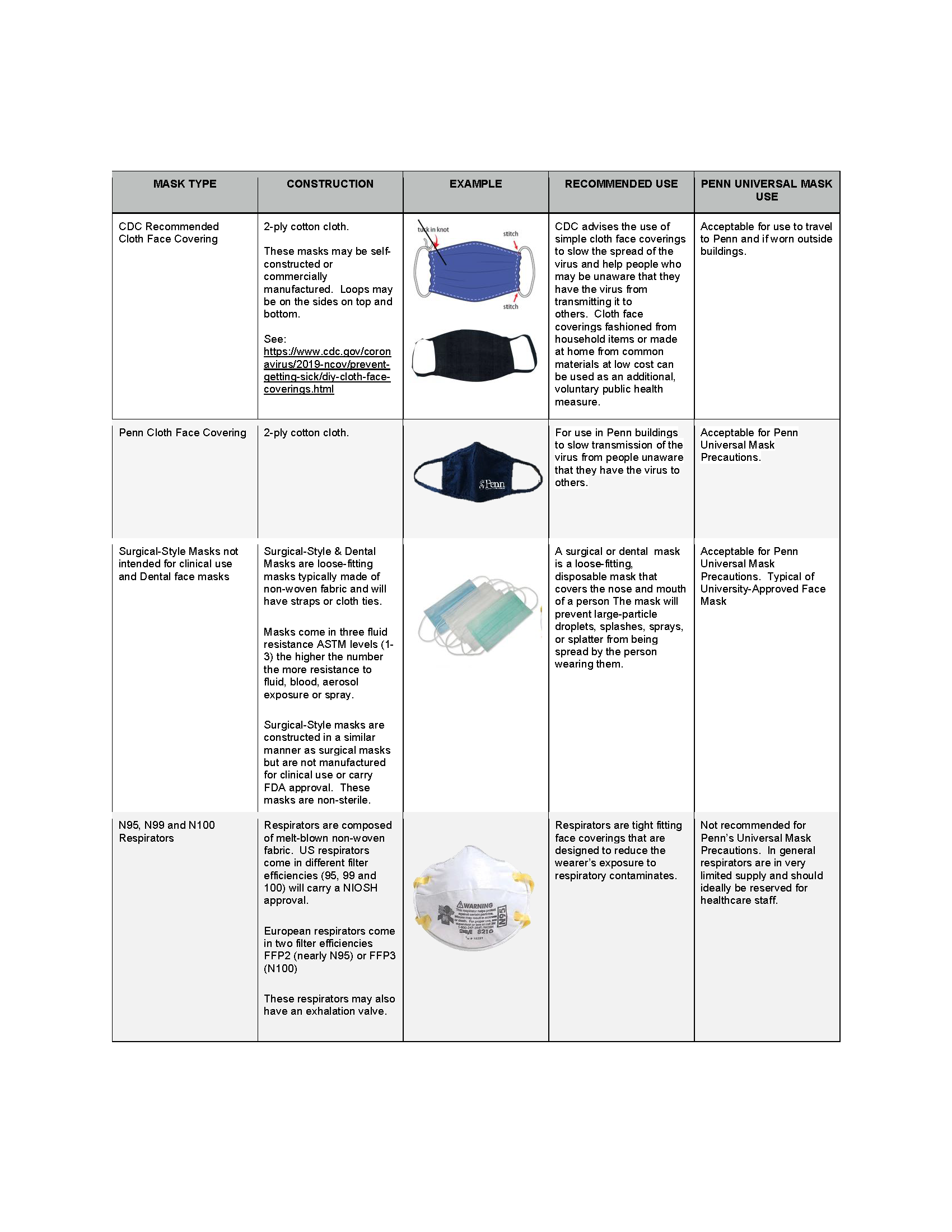 ​
Face Covering or respirators with one-way exhalation valve
All respirators with exhalation valves, including N95 respirators, do not meet the requirements of Penn's Universal Mask Policy, because the exhalation valve allows unfiltered exhaled air to be released.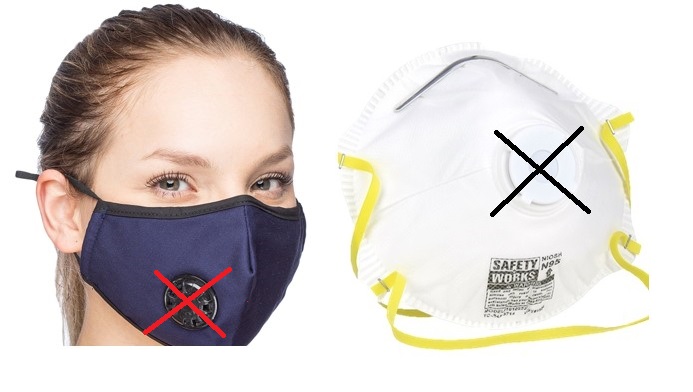 Non-NIOSH Approved and Counterfeit Respirators
NIOSH approved N95, N99 and N100 respirators as shown in the table above are not recommended for Penn's Universal Mask Precautions. These respirators are for health care workers and people who are enrolled in Penn's Respiratory Protection Program.  If you are enrolled in this program and do not have a sufficient supply of N95 respirators contact Valerie Perez and review the information below before purchasing.
Non-NIOSH Approved Respirators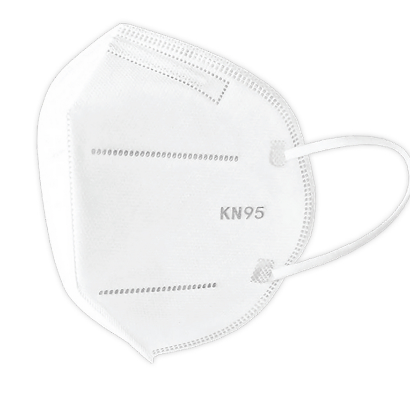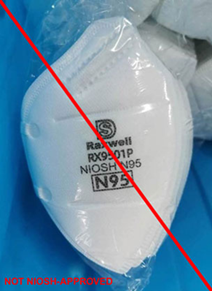 KN95 respirator from China                               Counterfeit respirator
Due to severe shortages of NIOSH approved disposable particulate respirators (N95, N99, N100) the FDA issued an Emergency Use Authorization (EUA) to provide guidance on non-NIOSH Approved Respirators, which include KN95 respirators.  In addition, the National Personal Protective Technology Laboratory (NPPTL) has made assessments of international, non-NIOSH approved respirators listed in the FDA's Appendix A  for particulate efficiency. While the NPPTL testing of respirators showed some international respirators had the required filtering efficiency, most of the listed respirators have an ear loop design which makes it difficult to achieve a proper fit and cannot be used for respiratory protection. If respirators from this list are considered for purchase, you must contact Valerie Perez for assistance.  These respirators must be tested before they can be used as a substitute for a NIOSH approved N95 respirator.
Counterfeit Respirators
NIOSH has been informed that many legitimate manufacturers in China have been counterfeited.  In such cases, NIOSH has no way of verifying which products are counterfeit and which are authentic.  NIOSH urges purchasers of masks and respirators that may have questions about the authenticity of these products to contact the manufacturers and others in the supply chain as needed to verify that they are obtaining legitimate products.  For a list of Counterfeit respirators visit the Center for Disease Control and Prevention website.  
In recent months the 3M company found that some of their N95 respirator models have been counterfeited.  For the most recent 3M counterfeiting information use this link.  This link should be checked frequently if you purchase their respirators.  If you have any questions regarding the authenticity please contact Valerie Perez in EHRS.
General KN95 Mask Use
During the pandemic, questions have emerged regarding the use of KN95 masks as a replacement for surgical masks.  Recent quantitative fit testing, conducted by EHRS staff, comparing KN95 and surgical masks, indicated that KN95s did not provide better protection than surgical masks. KN95 masks do not meet Penn's Universal Mask Policy and should not be purchased or used.