Last Revised: May 25, 2022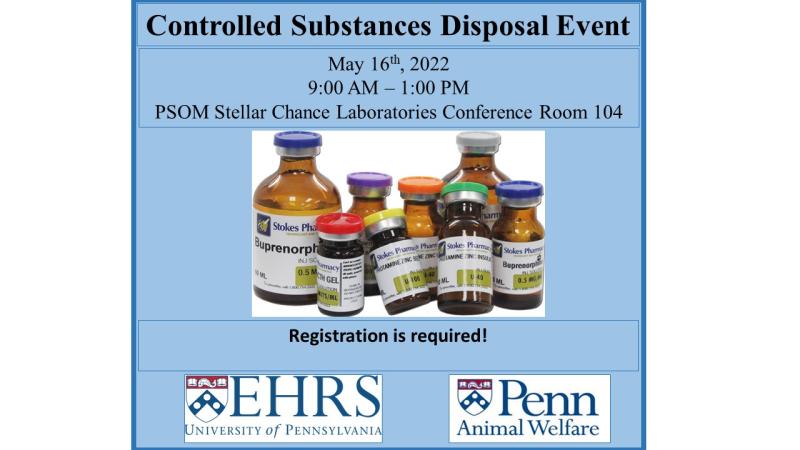 EHRS will be hosting a Controlled Substances Disposal Event on May 16th.  For more information or to register click here. 

Registration is required.
Controlled Substances Disposal Event




May 16

th

, 2022

9:00 am to 1:00 pm


PSOM Stellar Chance Laboratories
Conference

Room 104



EHRS and OAW are hosting an event to encourage registrants to properly dispose of outdated and unwanted

controlled substances. This event is open to all University employees who are current DEA registrants. The

Office of the Vice Provost for Research is covering the disposal costs.

EHRS and OAW staff will be onsite to answer questions and provide information on how to work with

controlled substances in a compliant manner.



Instructions to participate in the event:




1.

A

drug inventory form

must be completed electronically and submitted to EHRS. Forms must be

forwarded electronically to Jim Crumley and received by

3pm on May 9th, 2022

if you wish to

participate. *




2.

On May 16

 

th

, 2022, bring the items to

Stellar Chance Room 104

anytime between 9:00 am & 1:00 pm.

The materials will be transferred to Penn's licensed reverse distributor, and they will be sent offsite for

incineration at the conclusion of the event.




3.

Copies of the transfer documents will be provided as documentation. These must be maintained in

your file for a minimum of two years.




4.

Note that it is no longer required to send two people to drop off your drugs.





*This event is limited to current DEA registrants who wish to dispose of outdated or unwanted controlled

substances. We can only accept Schedule II-V drugs at the event. All Schedule I drugs must be handled

separately.



If you have any questions, please contact:




Jennifer Davis, OAW




215-573-0790




jennifd@upenn.edu
Jim Crumley

, EHRS
215-746-5036


jcrumley@ehrs.upenn.edu